*Bourbon Culture is reader-supported. When you buy through links on our site, we may earn an affiliate commission.
The whiskey review "industry" is full of reviewers with all kinds of different backgrounds and preferences. But as much as we're all different, reviewers are generally on the same page with their ratings and opinions when a new bottle is released. You'll find some outliers here and there, but if you read about 4 or 5 reviews on a new bottle, you should get a general idea on what to expect.
This brings me to my confusion with Hudson Baby Bourbon. If you look at all of the online reviews about this bourbon, the sampling seems somewhat split down the middle between loving and hating it. It's almost as if the reviewers weren't even drinking the same bourbon. Why is that?
To shed some light on this, I remembered back a few years ago to my earliest days reviewing bourbon on Reddit. There were a handful of reviews for Hudson Baby Bourbon that came out at the same time and they all had something in common: They read like an advertisement.
These reviewers really laid it on thick by waxing poetically about their love for the stuff. Their "enthusiasm" for the brand bordered on insanity and many members took to their keyboards to call them out. Those reviews (and reviewers) were quickly removed and banned. I've never seen anything quite like it since.
Hudson Baby Bourbon
So what was the point of that story? It makes me think that all is not right with this brand. For every review that calls it out for being young, astringent, ethanol-forward and unpleasant, there is a one where the reviewers claims their eyes have been opened to just how great this whiskey is and how it's changed their views on the brand.
I firmly believe that Hudson is directly involved in the overall image of their brand and are taking direct steps to ensure it's well reviewed. This isn't to say that other brands don't do this too, but with reviews regarding Hudson products, it seems as is if really large whiskey publications disregard the poor reviews they've done on similar craft whiskey products and sing a different song.
For the reviewers that disliked it, Hudson Baby Bourbon's combination of putting 100% corn distillate (no flavoring small grain!) into probably the smallest barrel in the industry (3 gallons!) and aging it for a minimum of 3 months (!) already stacks the deck against them.
The whole situation has a stench to it that one side is lying and the other side is trying to expose them. So it is with that in mind that I got my very own bottle of Hudson Baby Bourbon to finally settle this once and for all. I sampled it neat in a glencairn.
Tasting Notes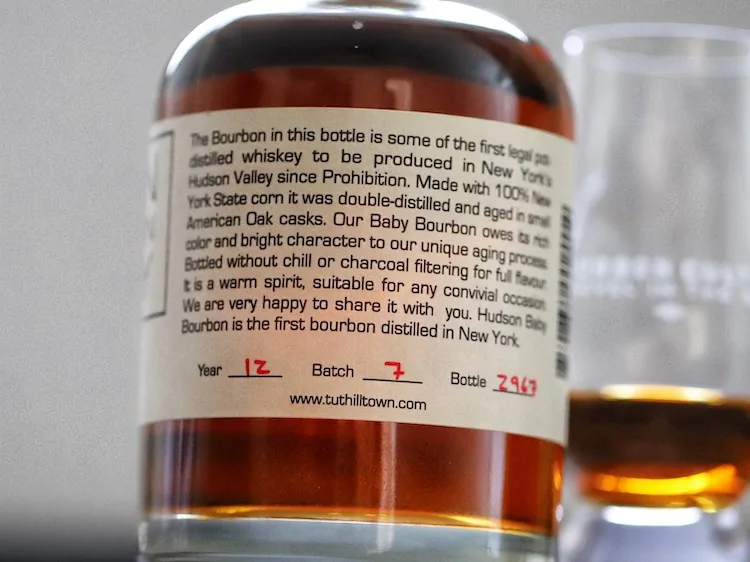 Nose: Wow, this smells young. The raw, grainy note is reminiscent of other distillery's White Dog (unaged spirit). The "breadiness" of the nose gives way to astringent, green notes.
Ethanol is prevalent but it is sweetened up by the scent of just… sugar. No, it's not really caramel or brown sugar or anything fun and exciting, just a kind of confectionaries' sugar or something. There's not much to like here.
Palate: More of the same from the nose. The flavors are young and grainy with a sharp sting of ethanol and artificial sweetener. The notes are harsh and astringent, reminding me of acne cleaners from my teenage years. There are fruits here, but they're mainly unripe apples. There's little sweetness overall. I also find an acidic note like coffee grounds as well. That was a taste that confused me.
Finish: After the sip is complete, my mouth starts to dry out leaving behind more harsh, young, green wood notes. The sweetness has now completely evaporated and I find myself wanting to stop drinking this after only a couple of tastes.
Score: 2/10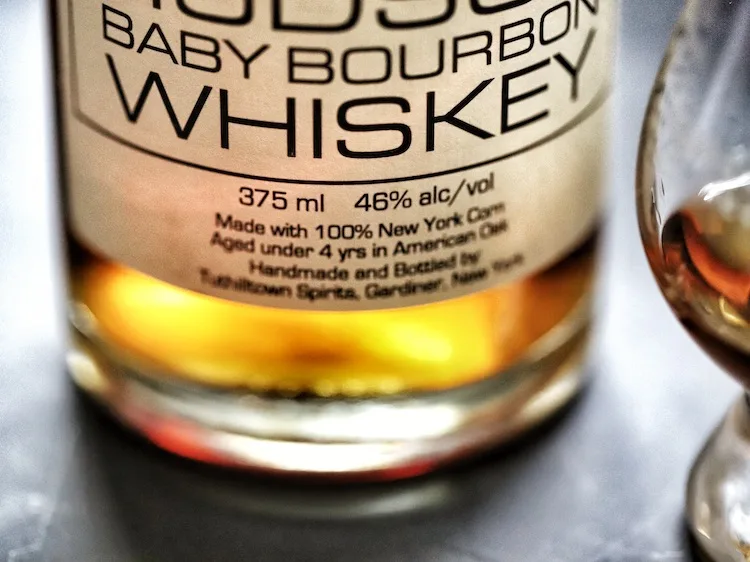 It is rare that I go into a review with a negative mindset for a whiskey I'm getting ready to partake, but I couldn't really help it. The thing about this bourbon is that it already gives you all of the warning signs before you reach the edge of the cliff. It's basically your own fault if you end up driving off the edge.
I firmly stand behind the fact that in order for any bourbon to be legitimately good, it needs to experience heat cycling (whether through the changing of the seasons or the artificial climate of a heat-cycled warehouse). This pushes the distillate through the layer of charred wood that is inside the barrel and then into the wood grain before being released when it cools down.
This is how bourbon matures. This is how bourbon develops its complexity and reduces its harshness. This is not what happens at any step of the process when making Hudson Baby Bourbon. The music they blast at these barrels (ugh) is nothing more than marketing. It doesn't magically age their whiskey because it just doesn't work.
I have talked to four separate liquor store owners and managers who all claim to have not sold a single bottle of Hudson Baby Bourbon (or any other product of theirs) for almost a solid year. That says something. Almost everyone knows this is bad bourbon. One look at the packaging makes you question if this is even a bourbon at all. But occasionally a sucker takes the bait and buys a bottle. I can't blame them either, some of the reviews out there do a good job of luring you in.
Final Thoughts
Back in the 1980's there was a commercial for Pace Picante Salsa where a bunch of cowboys were sitting around playing cards when their salsa ran out. One of the cowboys takes out his own jar and asks if anyone wants to try his instead. The oldest cowboy at the table exclaims "This stuff's made in New York City!" to which everyone in the saloon stops in their tracks and angrily yells out "New York City?!"
The whole premise of the commercial is that you should never try to pull the wool over the eyes of people who have experience and know better. And when it comes to experienced bourbon drinkers and enthusiasts, they can easily see through the marketing and they hype. But the real question is, will you?
Ratings Breakdown
1 | Disgusting | Drain pour (Example: Jeffers Creek)
2 | Poor | Forced myself to drink it
3 | Bad | Flawed (AD Laws 4 Grain BiB, Clyde Mays anything)
4 | Sub-par | Many things I'd rather have (Tincup 10 year)
5 | Good | Good, solid, ordinary (Larceny, Sazerac Rye)
6 | Very Good | Better than average (Buffalo Trace, OGD BiB)
7 | Great | Well above average (Old Ezra Barrel Proof, Old Weller Antique)
8 | Excellent | Exceptional (Michter's Barrel Proof Rye, Four Roses Barrel Strength)
9 | Incredible | Extraordinary (GTS, 13 Year MGP or Canadian Rye)
10 | Insurpassable | Nothing Else Comes Close (William Larue Weller)
Featured Products
Description:

The Aged & Ore Neat Traveler is a complete travel kit for spirits. We combined our widely praised Neat Glass with one of our 3oz Flight Bottles and housed them together in a custom EVA travel case. Perfect for a night away with your favorite pour. The tie
Description:

The Aged & Ore Bottle Flight is a premium set of 4 custom silicone wrapped glass bottles designed to transport and share samples of your favorite spirits. The flight bottles come in a custom EVA travel case that fits perfectly in any small bag. An Aged &
Description:

This Bundle combines two of our crowd favorite products, creating the ultimate travel bundle to bring along your favorite spirits and glassware. Bundle Includes: Neat Traveler (Gray) Bottle Flight (Gray) Note: This bundle is only available in gray and col
*Bourbon Culture is reader-supported. When you buy through links on our site, we may earn an affiliate commission.