*Bourbon Culture is reader-supported. When you buy through links on our site, we may earn an affiliate commission.
In 2011, High West was considered by many to be the darling of the US's rekindled love with brown spirits. They had been blending various rye whiskies and bourbons for 4 years now and growing their brand nationwide.
But with that growth came the need to offer products at price points that would attract new buyers that weren't sure they wanted to spend more than $50 for a bottle of whiskey.
At the same time, High West needed to delay depleting their limited stocks of rye whiskey they bought from Barton. The reason was Barton wasn't producing that rye whiskey any longer.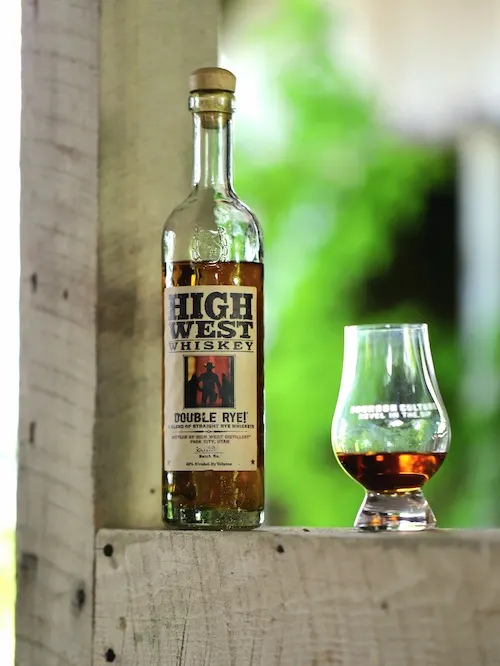 Up to this point, the secret ingredient in High West's products like Rendezvous Rye, Rocky Mountain Rye and even some batches of Bourye were these old barrels of Barton Rye Whiskey.
When High West began to scour Kentucky (and Indiana) for stocks of rye whiskey and bourbon, they came across a huge lot of rye whiskey that was aging with no real purpose at Barton Distillery in Bardstown, Kentucky.
Barton had two different double digit aged rye whiskies to choose from. An 80/10/10 rye whiskey and a 53/37/10 rye whiskey. They decided to buy both.
Double Rye was conceived as a blend that would use very young, 2 year old Rye Whiskey from MGP along with the 16 year old 53/37/10 rye whiskey from Barton.
It was hoped that the young qualities of the MGP rye would be offset by the old, sweet, oaky rye whiskey that hailed from Kentucky. The reviews for it were impressive after it launched and it remained a great shelf staple for years after that.
Following Constellation's buyout of High West in late 2016, a cost-cutting plan was put into place that gradually reduced the amount of expensive, sourced whiskey in each offering and replace it with whiskey distilled on High West's own stills.
Subsequently, by the beginning of 2018 there was no more Barton rye whiskey left to blend with anymore and Double West saw it's recipe switch to a blend of 2 year old MGP rye whiskey and their own rye whiskey that was aged for up to 7 years and consisted of 80% rye and 20% malted rye.
Prices remained more or less the same but the final blend had been altered in a way that many refused to believe it would be good anymore.
I teamed up with my friend Robert who helped me obtain a bottle of Double Rye! from 2020 while I used my bottle of Double Rye! from 2016 to check out what had changed.
Would the change be drastic or insignificant? There's only one way to find out. I sampled these blind and will have the reveal at the end.
Blind Glass 1:
Nose: Lots of spearmint and dill lead the way on this nose as notes of damp forest floor and botanicals keep the trend of plants going. Notes of unripe (rasp)berries don't do much to disguise the fact that there is not much sweetness on the nose at all.
Palate: Lots of botanical and herb notes follow from the nose to my tastebuds. I get notes of lemon peel along with cinnamon, pepper, clove and anise. The mouthfeel is overall very light and slightly bitter.
Honey and burnt sugars add a small amount of sweetness but overall it's not enough to make this a pleasant sipper. The youthful astringency gets worse on this as the session goes on.
Finish: All of the better rye flavors that I've encountered to this point (cinnamon, licorice/anise and herbal notes) are short lived on the finish.
When they fade away they generally leave a much more raw anise flavor and more astringency. The only saving grace on this one is that since the proof is low and the mouthfeel is light, nothing really lasts that long in your mouth.
Score: 4/10
Blind Glass 2:
Nose: More dill aromas are present than in glass 1. There is a sweeter fragrance overall with notes of seasoned oak, vanilla and fresh cut grass.
Palate: A soft and mellow mouthfeel begins with notes of melted candy canes, caramel and a touch of herbs and cinnamon rolls. It's peppery to a degree, but not hot. There are some cinnamon sprinkles and pine needles to wrap up the nice rye spice notes.
Finish: Well controlled in terms of heat, spice and the absence of youthful flavors. There is a little bit of sweetness left behind along with a bit of tannic oak and herbal notes.
Score: 6.2/10
Reveal:
Glass 1: Double Rye! from 2020
Glass 2: Double Rye! from 2016
Winner: Double Rye! from 2016!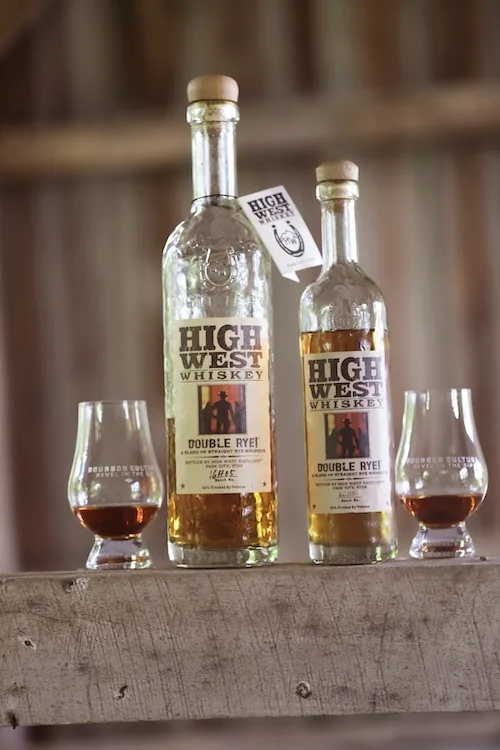 If there was one giveaway that these blinds steered me towards while I was tasting them, it's that the 2016 Double Rye! actually had a decent amount of oak notes.
Oak, or any tannins for that matter, were mostly non-existent in the 2020 Double Rye!. Of course, the most obvious discrepancy between the two was that the 2020 just lacked any kind of notable sweetness while the 2016 did have some.
I attribute this to the fact the 2016 version uses a barely legal rye whiskey that has a larger amount of corn that you'd normally find in other region's rye whiskey.
High West is going to have to take a look at their processes and procedures for the rye whiskey they are producing.
While the concept of a whiskey distillery and saloon in the mountains of Utah make for a really romantic appeal, the truth is the arid climate of the American West just isn't conducive to producing great whiskey.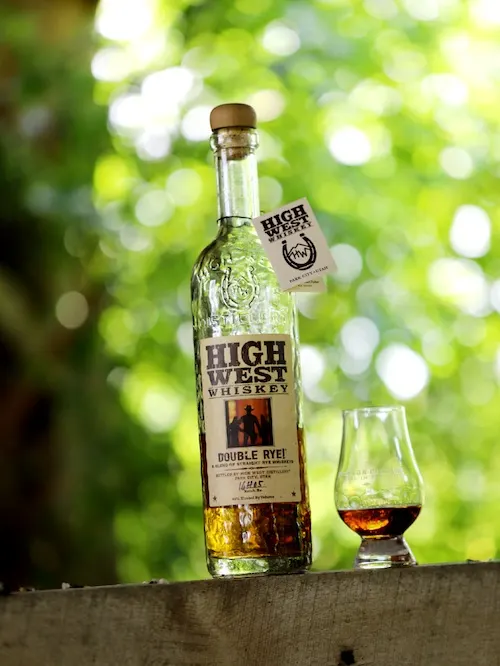 This is shown time and time again with distillers that see similarities in the seasonal temperature shifts they share with Kentucky and assume that they can automatically produce whiskey on the same level.
However, the high altitudes and extremely dry air do funky things with maturing whiskey that begins to produce dry, astringent and bitter elements that are hard to mask.
So what to do about this brand that's seeing a decrease in quality? Well for starters, they should try to tap into their sister brand, Belle Meade Bourbon (Nelson's Green Brier) to age (and maybe even distill!) their whiskey at.
The warm, humid Tennessee climate would be the perfect whiskey aging environment that is needed to create a rye whiskey that could eventually become equal to the famous Barton rye whiskey that elevated the brand to stardom all those years ago.
The sad reality of the situation is that High West's Double Rye! will likely never return to its previous heights.
It was never designed to be much more than a superb mixer or pleasant sipper, but since the change has occurred, customers have found there are simply far better and cheaper rye whiskies to take its place.
Ratings Breakdown
1 | Disgusting | Drain pour (Example: Jeffers Creek)
2 | Poor | Forced myself to drink it
3 | Bad | Flawed (AD Laws 4 Grain BiB, Clyde Mays anything)
4 | Sub-par | Many things I'd rather have (Tincup 10 year)
5 | Good | Good, solid, ordinary (Larceny, Sazerac Rye)
6 | Very Good | Better than average (Buffalo Trace, OGD BiB)
7 | Great | Well above average (Old Ezra Barrel Proof, Old Weller Antique)
8 | Excellent | Exceptional (Michter's Barrel Proof Rye, Four Roses Barrel Strength)
9 | Incredible | Extraordinary (GTS, 13 Year MGP or Canadian Rye)
10 | Insurpassable | Nothing Else Comes Close (William Larue Weller)
Featured Products
Description:

The Aged & Ore Neat Traveler is a complete travel kit for spirits. We combined our widely praised Neat Glass with one of our 3oz Flight Bottles and housed them together in a custom EVA travel case. Perfect for a night away with your favorite pour. The tie
Description:

The Aged & Ore Bottle Flight is a premium set of 4 custom silicone wrapped glass bottles designed to transport and share samples of your favorite spirits. The flight bottles come in a custom EVA travel case that fits perfectly in any small bag. An Aged &
Description:

This Bundle combines two of our crowd favorite products, creating the ultimate travel bundle to bring along your favorite spirits and glassware. Bundle Includes: Neat Traveler (Gray) Bottle Flight (Gray) Note: This bundle is only available in gray and col
*Bourbon Culture is reader-supported. When you buy through links on our site, we may earn an affiliate commission.