*Bourbon Culture is reader-supported. When you buy through links on our site, we may earn an affiliate commission.
High West's Campfire is unique in that it is a blend of bourbon, rye whiskey and Scotch. It stems from a story that the owners had experienced when it came to watching Scotch being used as an ingredient to make a dessert topping and wanting to experiment with integrating that Scotch into a product that High West would carry.
The Scotch used has a particularly smoked peat smell (common with Islay malts), but High West claims that no Islay Scotch was used. So whatever other Scotch region it could be from could be anyone's guess.
One of the higher-priced bottles
This is one of the higher-priced High West Bottles out there, usually hovering around $60 (so, roughly the same as Rendezvous Rye). I was lucky to find it on sale at $49.99, so I decided to give it a try.
Carrying no age statement and no exact ratios of exactly how much of each whiskey was used in it, the only real information you can see is what the proof is (still 92 proof).
I first bought this bottle during my transition from Scotch into bourbon and it was a great transitional bottle. But now that I'm more in-tune with my tastings, I decided to revisit it to pick out the finer nuances to it. This was sampled over many days during a Florida Vacation.
Tasting Notes
Nose: Campfire smoke, sticky sweet molasses (and at times, maybe honey), vanilla, a tart fruit scent that's not quite like tart cherries, but more like the rhubarb in a rhubarb pie. If you dig really deep, you'll find this classic "seasoned wood" scent that I get with most old MGP bourbon.
Palate: Buttery rye spices try to shine through this thick layer of liquid smoke. The odd thing about this is that if I drink this at a fast pace, I begin to lose the smoke on the palate and nose. But if I take 10 minutes between each sip, then the smoke really comes back and hits hard. There is also a fair amount of coarse black pepper, but it's subdued by a growing thick sweetness. Sweet, smoky black cherries also are present.
Finish: The smoke never leaves, but there is some cinnamon mixed with a little bit of dill and a faint amount of sweet red wine (even though there is no mention of a barrel finishing treatment done by HW)
Rating: 6.1/10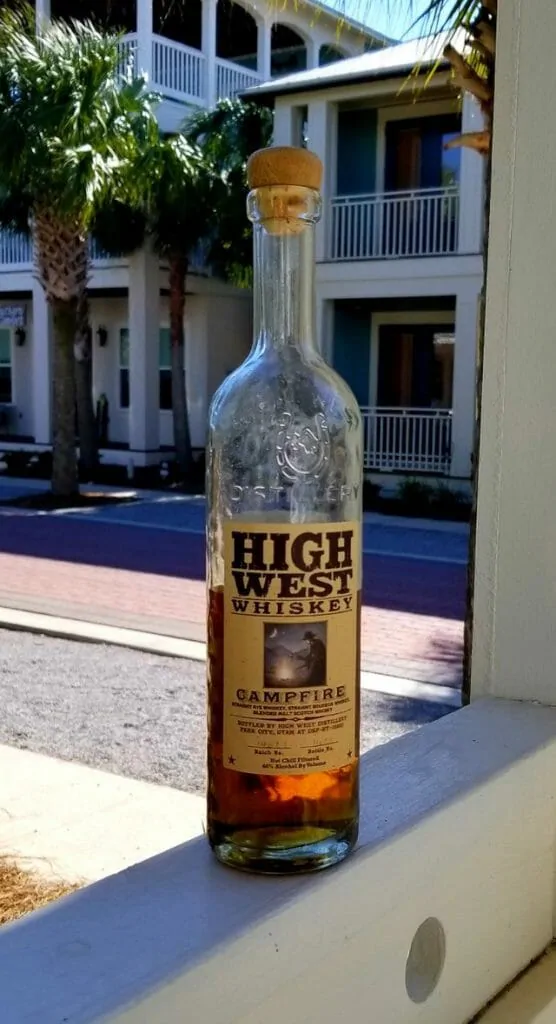 What I may have rated as a 7 or higher when I first started drinking whiskey, I now move further down into the "6" realm. This whiskey doesn't have any inherently bad characteristics, but is just so overwhelming with smoke and cloying sweetness that it's hard to get past.
It's not harsh, which is a positive, but when certain traits start tasting artificially added, that is where a good whiskey can become undesirable. This whiskey hugs that line.
Final Thoughts
This is a great introductory whiskey for the price, but if you simply must have a peat-y character in your mish-mash of rye and bourbon, might I suggest a bottle where it is more restrained but with bolder overall character: Barrell Craft Spirits Infinite Bottle. And at $5 to $10 more expensive than the others, it's a true competitor. But that's a review for another day.
Rating Breakdown
1 | Disgusting | Drain pour (Example: Jeffers Creek)
2 | Poor | Forced myself to drink it
3 | Bad | Flawed (AD Laws 4 Grain BiB, Clyde Mays anything)
4 | Sub-par | Many things I'd rather have (Tincup 10 year)
5 | Good | Good, solid, ordinary (Larceny, Sazerac Rye)
6 | Very Good | Better than average (Buffalo Trace, OGD BiB)
7 | Great | Well above average (Old Ezra Barrel Proof, Old Weller Antique)
8 | Excellent | Exceptional (Michter's Barrel Proof Rye, Four Roses Barrel Strength)
9 | Incredible | Extraordinary (GTS, 13 Year MGP or Canadian Rye)
10 | Insurpassable | Nothing Else Comes Close (William Larue Weller)
Featured Products
Description:

The Aged & Ore Neat Traveler is a complete travel kit for spirits. We combined our widely praised Neat Glass with one of our 3oz Flight Bottles and housed them together in a custom EVA travel case. Perfect for a night away with your favorite pour. The tie
Description:

The Aged & Ore Bottle Flight is a premium set of 4 custom silicone wrapped glass bottles designed to transport and share samples of your favorite spirits. The flight bottles come in a custom EVA travel case that fits perfectly in any small bag. An Aged &
Description:

This Bundle combines two of our crowd favorite products, creating the ultimate travel bundle to bring along your favorite spirits and glassware. Bundle Includes: Neat Traveler (Gray) Bottle Flight (Gray) Note: This bundle is only available in gray and col
*Bourbon Culture is reader-supported. When you buy through links on our site, we may earn an affiliate commission.