*Bourbon Culture is reader-supported. When you buy through links on our site, we may earn an affiliate commission.
George Dickel Bottled in Bond Tennessee Whiskey is the best value in bourbon today. That statement doesn't have to be followed up with any "ifs," "ands" or "buts." It's simply the truth. What other distillery pushed out a product with this age and this proof for this price?
That proof, by the way, is probably much closer to barrel proof than you'd imagine. Don't believe me? Here's how I've arrived at that conclusion. Take a look at my article where Nicole Austin talked about Dickel 15 Year Old Single Barrels here. She explains that she established 7 different bottling proofs that were the closest to the actual barrel proofs of those 15-17 year barrels. They range from 80 proof up to 104.6. Barrels that old tend to drop in proof the longer they age at Cascade Hollow thanks to their warehouse design. Those single story, low-roof styles act more like the dunnage-style warehouses used in Scotland.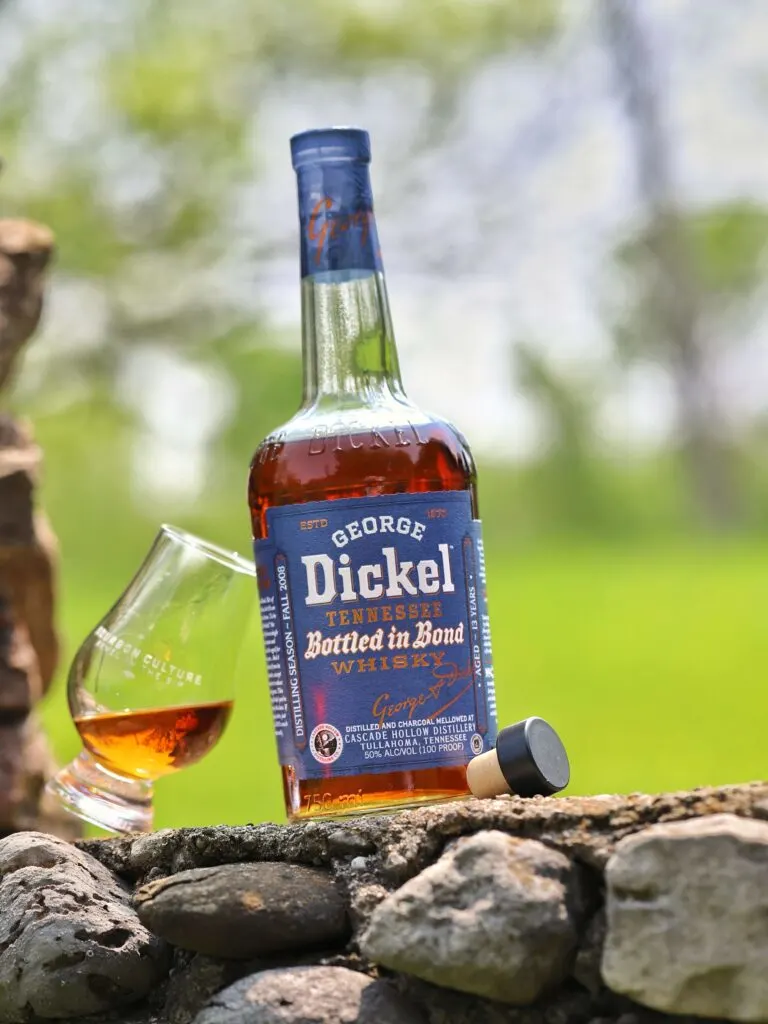 Since Dickel Bottled in Bond has seen age statements into the teens 3 out of the past 4 years they've been released, we could assume that the barrels they use are just as low in proof. If you need any more convincing, I'll point out that Dickel already goes into the barrel at a rather-low 115 proof (just like Wild Turkey). So it's not a stretch to see them drop 10 to 15 proof points the more it ages.
The Fourth Release of George Dickel Bottled-in-Bond
The bottle I'm reviewing today is the fourth in the series of Bottled-in-Bond releases. Here's where it fits in with the rest of them:
2019 Release – Distilled in Fall 2005, Released in May 2019 (13 Years Old)
2020 Release – Distilled in Fall 2008, Released in June 2020 (11 Years Old)
2021 Release – Distilled in Spring 2007, Released in August 2021 (13 Years Old)
2022 Release – Distilled in Fall 2008, Released in August 2022 (13 Years Old)
With three different 13 year old versions, how can you quickly tell them apart? Just look on the right side of the label for the numbered release. Now you just have to remember that 2019 was the first release and you should be able to deduce the rest.
Of course the barrels that are used in each year's release are going to have differences from batch to batch. However, and I hate to admit it, but this bottle of 2022's release is the first time I'm actually sitting down and recording my thoughts and observations on any of them. So I honestly have no other frame of reference to go by. I have enjoyed plenty of sourced Dickel products in the past, but I'm wondering what I'll find different here. Time to stop delaying and get down to tasting. As usual, I sampled this bottle neat in a glencairn.
Tasting Notes
Nose: Sweet scents of honey, caramel and vanilla mix with the unmistakable note of marzipan and toasted nuts. This is a classic Dickel combination and one that works well here. There's also sweet oak and coconut shell that contrast to the orange rind and vanilla curd I am finding too. Complexity is increased whenever I detect this sort of "flat" root beer smell too. It's an amazingly inviting nose that checks all the right boxes for me.
Palate: I shouldn't be shocked that each sip is buttery smooth and mellow. There is the creaminess of Cadbury Caramello's where you can taste how well milk chocolate and caramel come together. I'm also finding a strawberry note which is a treat any time a whiskey contains it. It pairs nicely with a Flintstone Multivitamin flavors like cherry, raspberry and grape. Love it or hate it, I'm telling you it works. Spice flavors reveal themselves further into the sip with cinnamon, red pepper flakes and a bit of sarsaparilla. There is a cornmeal note that feels like it belongs and never comes off as young and grainy too.
Finish: The finish stays sweet to the end with caramel, raisins and a surprising amount of oak. Seriously, I've had older Dickel-sourced products before that don't reveal as much oak on the finish as this one does. It's impressive. Lingering flavors of cinnamon spice, toasted almonds and citrus zest are pleasant and even the aftertaste of crushed stone doesn't seem weird. I think it all works very well together leaving a moderately long finish that I enjoy every minute of.
Score: 8/10
Wow, I had decent expectations coming into this one, but after one session with this bottle, it blew them all away. This is an impressive whiskey made even more impressive by the fact that I got it on sale for only $28 before tax. You heard me right! Just over $2 per-year-aged for something that I'm this happy with? Why do I need to drink anything else?
I've heard from a few people that 2022's release isn't as good as previous releases and honestly, I hope that's true. I want to try the rest of them now to see what kind of ceiling they have. I'm also eagerly awaiting the 2023 Release (No. 5) to drop. If I can get this much flavor from a bottle that should cost around $40-45 in most areas, then this is a no-brainer.
Final Thoughts
The highest praise I can give this bottle is how remorseful I feel that I ignored it for the last 3 years. Seriously, I saw it on the shelf. I walked by it. I told myself there were better bourbons/whiskies to buy than this but I was wrong. This is really impressive and now I'm no longer questioning all of the awards previous bottlings got.
Of course, the Dickel haters out there that will vehemently disagree with my assessment. I've rated much more desirable bottles much lower. I don't care because this one deserves it. The Flintstone vitamin note chases a lot of people away but I encourage them to look past it; maybe even embrace it. The more you drink of it, the less noticeable it gets and the more your senses can take over and find the other flavors that are packed into each sip.
Within most whiskey circles I run with, my love for George Dickel is known and promptly laughed at. So I talk about whiskies that are more rare or have great packaging or are better reviewed. But at the end of the day when I hang up my whiskey snob hat and it's just me and my evening pour, this will be the bottle I'm reaching for – and that's just fine with me.
Featured Products
Description:

The Aged & Ore Neat Traveler is a complete travel kit for spirits. We combined our widely praised Neat Glass with one of our 3oz Flight Bottles and housed them together in a custom EVA travel case. Perfect for a night away with your favorite pour. The tie
Description:

The Aged & Ore Bottle Flight is a premium set of 4 custom silicone wrapped glass bottles designed to transport and share samples of your favorite spirits. The flight bottles come in a custom EVA travel case that fits perfectly in any small bag. An Aged &
Description:

This Bundle combines two of our crowd favorite products, creating the ultimate travel bundle to bring along your favorite spirits and glassware. Bundle Includes: Neat Traveler (Gray) Bottle Flight (Gray) Note: This bundle is only available in gray and col
*Bourbon Culture is reader-supported. When you buy through links on our site, we may earn an affiliate commission.