*Bourbon Culture is reader-supported. When you buy through links on our site, we may earn an affiliate commission.
Earlier this year, Four Roses decided to add the "fourth rose" to its lineup by announcing their new Small Batch Select. Using basically the same bottle as their small batch and changing up the label some, they bottle this blend of 6 different recipes at 104 proof and forgo the chill filtering that regular Small Batch must utilize.
This had many Four Roses fans biting at the bit to try it. But then the bad news came out that at least for the first year, availability was going to be limited to only certain states.
As for pricing, this would fit neatly between their Single Barrel, 100 proof bottles ($40) and their Barrel Proof Single Barrels (10 different recipes to choose from) that now run upwards of $70.
Small Batch Select
For reference, the Small Batch Select's 6 recipes that are used in this bottle are the high and low rye mashbill's of the K, V and F yeast strains.
Those are some of my favorite yeast strains and I knew it would add some immediate spice into the mix. But what about the rest? There's only one way to find out. I sampled this neat and from a glencairn to find out.
Tasting Notes
Nose: The nose opens up to loads of vanilla and warm baking spices. The tannins also come out in a big way (even though this is probably around 7 years old) with notes of cedar cigar box and charred oak wood.
There are even some terrific fruit notes (probably courtesy of the V yeast strain recipes) with ripe oranges, fresh cut Red Delicious apples and rose petals.
Palate: Plenty of toffee mixed with various tree nuts. This is followed by cinnamon spiced pears and a little bit of sweet cherries.
There is a black pepper burn along with some honey to thicken things up. Speaking of thick, this mouthfeel is rich and thick and makes the price tag feel more worth it.
Finish: A sweet and long lasting finish of light brown sugar, apricots and intense rye spices like clove and sweet mint. It wraps up the dram in a terrific fruity and sweet way.
Score: 7.7/10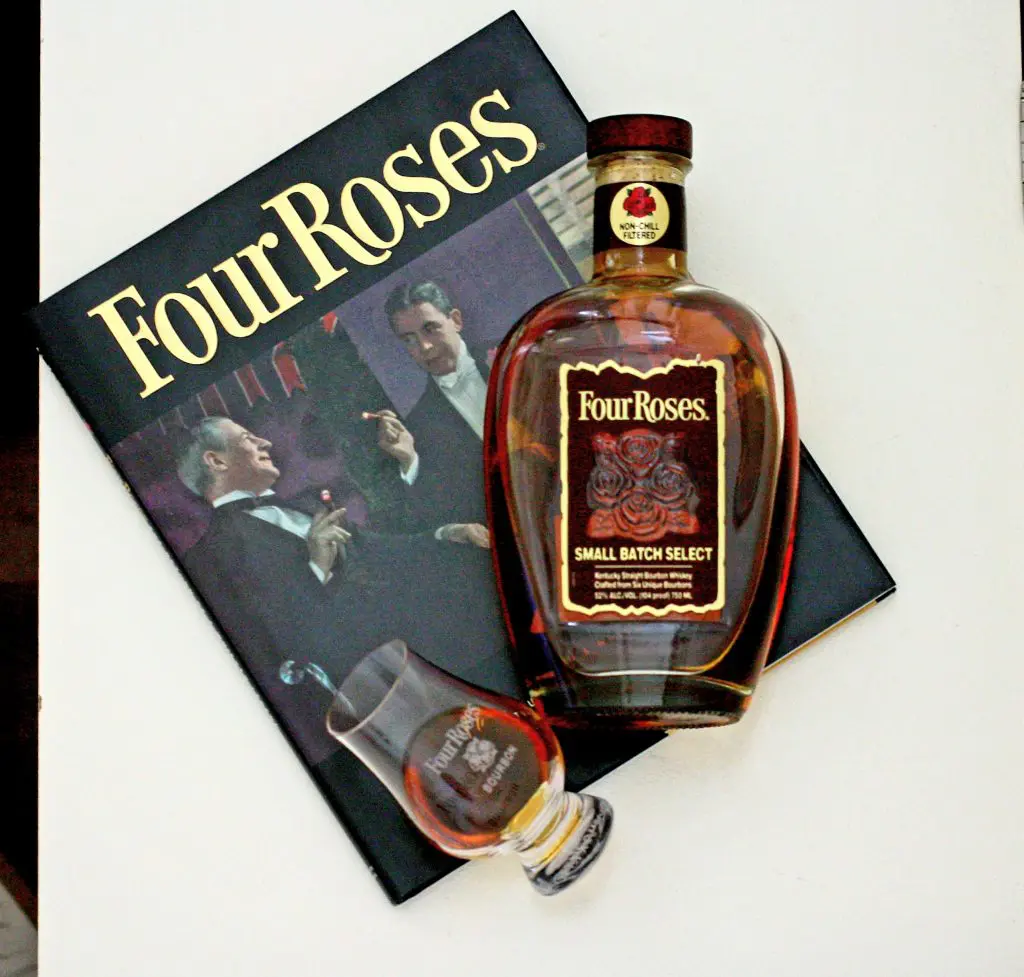 Final Thoughts
This is a delicious bottle that really nailed what a bottle at this price point needed to be. As this gets wider availability, I would hope that this would find its way as a staple amongst most people's bars.
If you don't have very good access to Four Roses in the state you live in, this could be a great consolation gift when you do eventually find it because the proof is spot on to delivering all of the flavors without bringing too much heat (which isn't something most Four Roses bottles are known for anyway).
Let's just hope this doesn't reduce the amount of F, V and K recipes available for the private selection program in the future!
Rating Breakdown
1 | Disgusting | Drain pour
2 | Poor | Forced myself to drink it
3 | Bad | Flawed
4 | Sub-par | Many things I'd rather have
5 | Good | Good, solid, ordinary
6 | Very Good | Better than average
7 | Great | Well above average
8 | Excellent | Exceptional
9 | Incredible | Extraordinary
10 | Insurpassable | Nothing Else Comes Close
Featured Products
Description:

The Aged & Ore Neat Traveler is a complete travel kit for spirits. We combined our widely praised Neat Glass with one of our 3oz Flight Bottles and housed them together in a custom EVA travel case. Perfect for a night away with your favorite pour. The tie
Description:

The Aged & Ore Bottle Flight is a premium set of 4 custom silicone wrapped glass bottles designed to transport and share samples of your favorite spirits. The flight bottles come in a custom EVA travel case that fits perfectly in any small bag. An Aged &
Description:

This Bundle combines two of our crowd favorite products, creating the ultimate travel bundle to bring along your favorite spirits and glassware. Bundle Includes: Neat Traveler (Gray) Bottle Flight (Gray) Note: This bundle is only available in gray and col
*Bourbon Culture is reader-supported. When you buy through links on our site, we may earn an affiliate commission.