*Bourbon Culture is reader-supported. When you buy through links on our site, we may earn an affiliate commission.
I have a confession to make. After 2 years of whiskey drinking, I have never reviewed a bottle of Four Roses Small Batch. My start to bourbon didn't consist of dabbling in the more common labels or bottom shelf for too long as friends quickly moved me into the world of barrel proofs and limited editions.
For the record, my first bottle of *any* Four Roses was actually a barrel proof OESQ recipe from the Forecastle Festival of 2018. But since Small Batch has been around forever and is one of the most common Four Roses products you should be able to find in a bar, I decided now was the time to review it.
While Yellow Label is bottled at 80 proof and contains all 10 recipes that Four Roses produces, Small Batch contains only 4 recipes: OBSK, OESK, OBSO and OESO.
If you're familiar with recipes, you'll realize that these are four of the most desirable and hardest to find single barrel recipes among enthusiasts.
Maybe a reason they're in such short demand is that a majority of the barrels get redirected to make up the contents of Small Batch before they ever reach 8+ years of age.
The four recipes I just mentioned are known to have more spice (K yeast) or more red fruit notes (O yeast) than any other recipe, so I would assume those will be the most dominant flavors in Small Batch.
But being bottled at only 90 proof, I'm sure everything will be a little more muted than what I'm used to. Let's take a look though. I sampled this neat and in a Glencairn.
Tasting Notes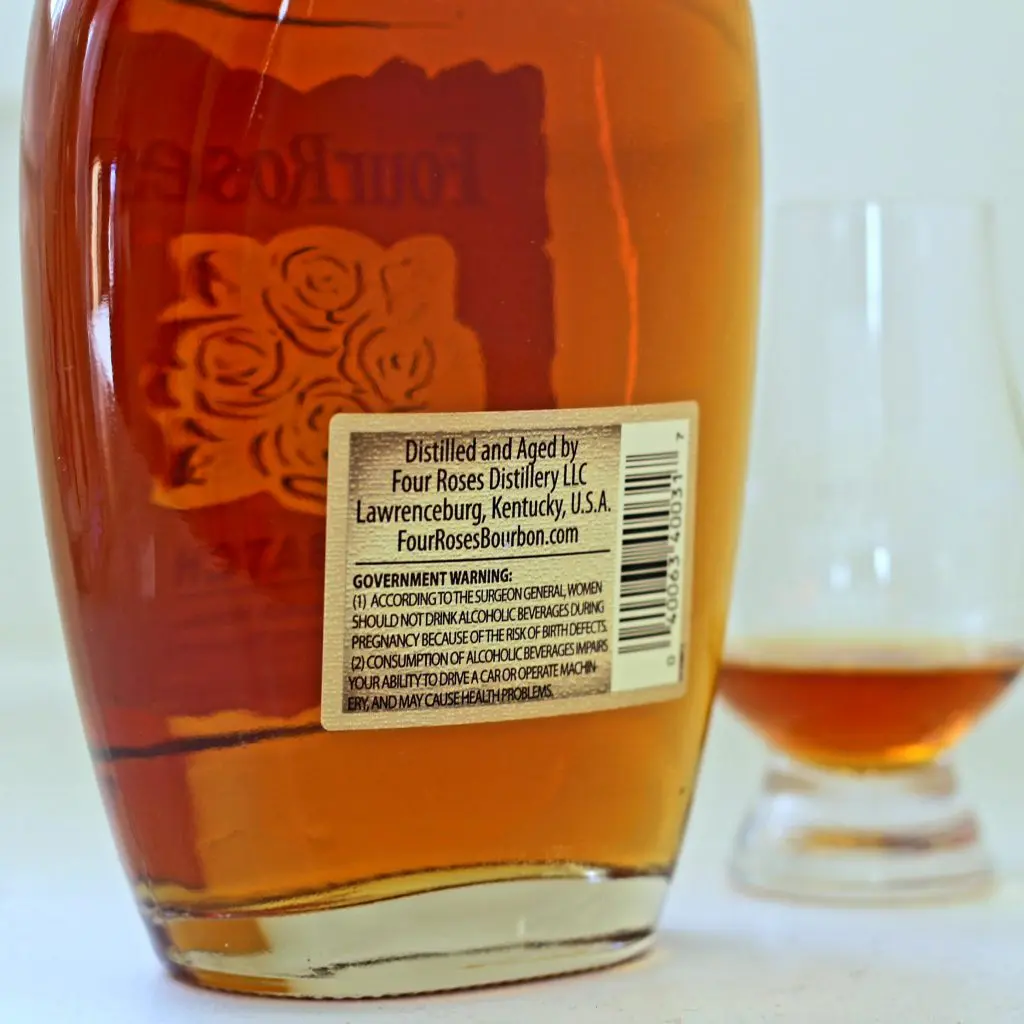 Nose: The nose is simple but offers notes of light brown sugar. Interestingly, the high-rye character perks up a bit with prickly spices like green peppercorns and cinnamon. There's even a bit of oak scent as well.
Palate: Light and sweet on the tongue with a nice spread of red fruits and cinnamon. It's fun to observe the playful effect of rye spice at this lower proof as it brings up mint and a hint of other herbs if you look hard enough.
The mouthful feels thicker than it should be too. The only ding I can give the flavor is that the oak tastes more "green" and there is a touch of youth here and there.
Finish: The spice on the finish is playful enough to keep reminding you it's there, but because the proof is only 90, it never gets carried away. A bit of toffee and oak remain and are fond reminders of the legacy of the recipes this one blends together.
But I can't help but note small traces of ethanol that remain after the sip has gone. Once again, at such a low proof it's not really a distraction, but it's worth noting.
Score: 6/10
Four Roses Small Batch is extremely competent at what it's designed to do at this price point. I was imagining that at only 90 proof that most flavors would get washed away. But my tongue still had an easy time distinguishing each note.
Sure enough, this shares enough in common with the various 90 proof MGP bourbons on the market that I could draw some parallels (of note: MGP bourbon uses the "V" yeast strain that Four Roses uses).
But when you survey the landscape of inexpensive, younger, 90 proof Kentucky Straight Bourbon Whiskies (KSBWs) out there, Small Batch stands out by offering a more complex bourbon filled with scents and flavors that a new whiskey drinker may not yet appreciate, but will soon.
That's why Small Batch should be a required pour for any new whiskey drinker looking to go deeper and farther into their journey with bourbon.
Rating Breakdown
1 | Disgusting | Drain pour (Example: Jeffers Creek)
2 | Poor | Forced myself to drink it
3 | Bad | Flawed (AD Laws 4 Grain BiB, Clyde Mays anything)
4 | Sub-par | Many things I'd rather have (Tincup 10 year)
5 | Good | Good, solid, ordinary (Larceny, Sazerac Rye)
6 | Very Good | Better than average (Buffalo Trace, OGD BiB)
7 | Great | Well above average (Old Ezra Barrel Proof, Old Weller Antique)
8 | Excellent | Exceptional (Michter's Barrel Proof Rye, Four Roses Barrel Strength)
9 | Incredible | Extraordinary (GTS, 13 Year MGP or Canadian Rye)
10 | Insurpassable | Nothing Else Comes Close (William Larue Weller)
Featured Products
Description:

The Aged & Ore Neat Traveler is a complete travel kit for spirits. We combined our widely praised Neat Glass with one of our 3oz Flight Bottles and housed them together in a custom EVA travel case. Perfect for a night away with your favorite pour. The tie
Description:

The Aged & Ore Bottle Flight is a premium set of 4 custom silicone wrapped glass bottles designed to transport and share samples of your favorite spirits. The flight bottles come in a custom EVA travel case that fits perfectly in any small bag. An Aged &
Description:

This Bundle combines two of our crowd favorite products, creating the ultimate travel bundle to bring along your favorite spirits and glassware. Bundle Includes: Neat Traveler (Gray) Bottle Flight (Gray) Note: This bundle is only available in gray and col
*Bourbon Culture is reader-supported. When you buy through links on our site, we may earn an affiliate commission.