*Bourbon Culture is reader-supported. When you buy through links on our site, we may earn an affiliate commission.
This may be incorrect, but I think that the most produced recipe of Four Roses is their OBSV. It's a high rye mashbill that uses the V yeast strain that imparts a more fruity profile.
It's used exclusively in their Single Barrel, 100 proof bottlings and is also used in every other batched whiskey they blend. I've also heard a rumor that MGP's yeast strain is also this "V" strain, obtained during the days from when Four Roses and MGP were both owned by Seagram's.
Today, I have two bottles of barrel strength OBSV that were selected by different stores. The Big Red pick clocks in at 10 years, 7 months old and is bottled at 125 proof. The Westport Wine and Whiskey clocks in at 9 years, 4 months old and is bottled at 117.6 proof.
'm sure these are both delicious, but I decided to do a blind side-by-side to see which one is tops and to also look at what differences I could spot in two identical recipes. These were sampled semi-blind, neat and in a glencairn.
Blind Glass 1
Nose: The nose on this has fruit for days. There are cherries, pears and a lovely toasted orange peel. Then the floral traits start to show themselves with lilacs, rose petals and vanilla blossoms. But the sweetness doesn't end there as buttered raisin toast shows up and brings with it some delicate toasted oak scents.
Palate: Sweet, decadent red fruit compote served on top of a big slice of angel food cake. There's some red licorice and a faint chocolate-dipped cherry.
Finish: Rye spice comes around after the sip is complete and pops with some classic rye notes of fresh hay, pine needles and sweet mint. But then the fruity sweetness come back with black cherries, unripe peaches and apples.
Score: 8/10
Blind Glass 2
Nose: Cherries, cherries, cherries. All the kinds of cherry varieties too. For lovers of Stagg Jr's cherries, this one is for you. But there's more than just cherries, I get unlit cigar, carrot cake (very strange!) and marzipan.
Palate: Pomegranate juice and sweet maraschino cherries give a nice, juicy start to the palate followed by a little bit of mint and a little bit of citrus (orange/lime) zest. There's also a heat that I can best describe as ginger root, which is a trait I get often with high-rye recipes.
Finish: The mint on the palate intensifies, yet stays sweet. There's molasses, faint shaved ginger root and a really nice floral taste that stays long after the sip is gone.
Score: 8/10
Blind Reveal:
Glass 1: OBSV Big Red Liquors
Glass 2: OBSV Westport Whiskey and Wine
TIE!!!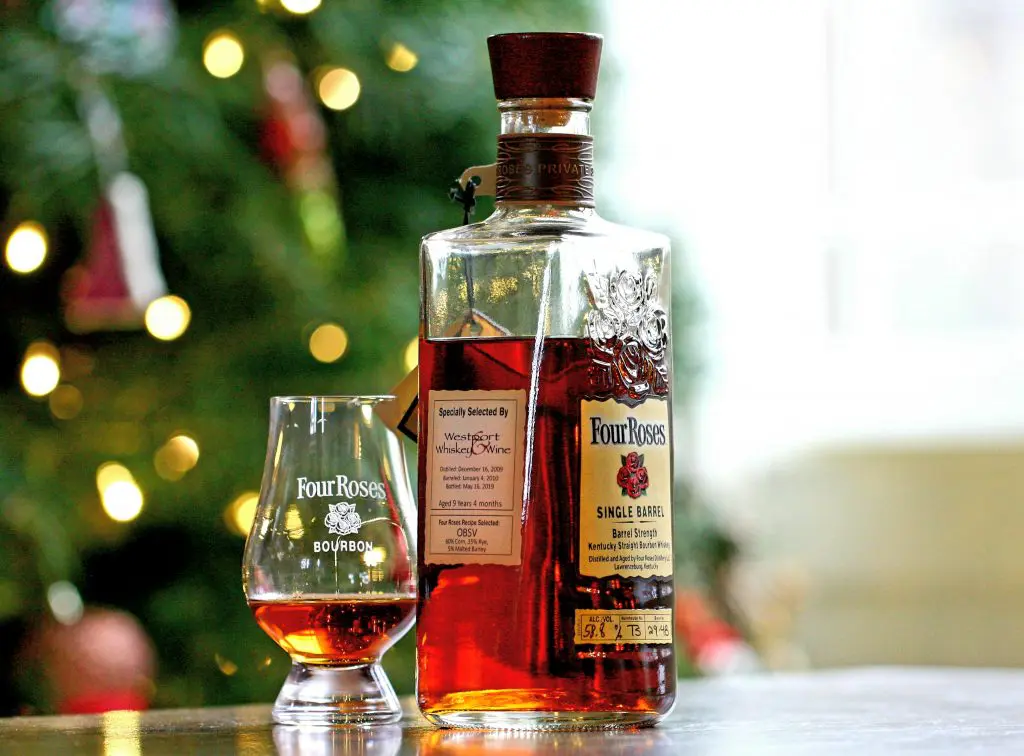 The OBSV recipe is perfectly balanced and executed in these two bottles. The fruitiness was off the charts and could probably put a Buffalo Trace product to shame.
The high-rye mashbill does not beat you over the head with spice and heat, but instead adds a nice dash of complexity to the sweet-train that these have going on.
Final Thoughts
Many people will choose their favorite recipe of Four Roses early on, but I think that OBSV will always have a spot to be universally loved among the group of people that love Four Roses products. They're that good.
Rating Breakdown
1 | Disgusting | Drain pour
2 | Poor | Forced myself to drink it
3 | Bad | Flawed
4 | Sub-par | Many things I'd rather have
5 | Good | Good, solid, ordinary
6 | Very Good | Better than average
7 | Great | Well above average
8 | Excellent | Exceptional
9 | Incredible | Extraordinary
10 | Insurpassable | Nothing Else Comes Close
Featured Products
Description:

The Aged & Ore Neat Traveler is a complete travel kit for spirits. We combined our widely praised Neat Glass with one of our 3oz Flight Bottles and housed them together in a custom EVA travel case. Perfect for a night away with your favorite pour. The tie
Description:

The Aged & Ore Bottle Flight is a premium set of 4 custom silicone wrapped glass bottles designed to transport and share samples of your favorite spirits. The flight bottles come in a custom EVA travel case that fits perfectly in any small bag. An Aged &
Description:

This Bundle combines two of our crowd favorite products, creating the ultimate travel bundle to bring along your favorite spirits and glassware. Bundle Includes: Neat Traveler (Gray) Bottle Flight (Gray) Note: This bundle is only available in gray and col
*Bourbon Culture is reader-supported. When you buy through links on our site, we may earn an affiliate commission.