*Bourbon Culture is reader-supported. When you buy through links on our site, we may earn an affiliate commission.
Four Roses makes some of my favorite barrel proof single barrels out there. With 10 different recipes, they literally have one for whatever mood I'm in that day. Unfortunately the prices have gone up recently and they're hard to find unless you manage to nab a bottle within 2 days of most releases being put out on shelves. But this speaks to the quality of what they're putting out these days.
But not all recipes are created equal. I think that if I were to conduct a poll amongst my friends, I'd find out that OESQ ranks near the bottom for most desirable Four Roses recipe. Generally, most folks will claim that they do not like the floral element that the Q yeast strain brings with it and the lower rye mashbill makes it even less appealing.
Forecastle 2018
But when a music and art event as large as the annual Forecastle event that takes place in Louisville chooses an OESQ for their own official single barrel of the event, it makes you take notice that they wouldn't waste their one shot on a bourbon that was bad. It was with this hope that I took the leap of faith on this bottle and decided to see what it was all about. This bottle was sampled neat and from a glencairn.
Tasting Notes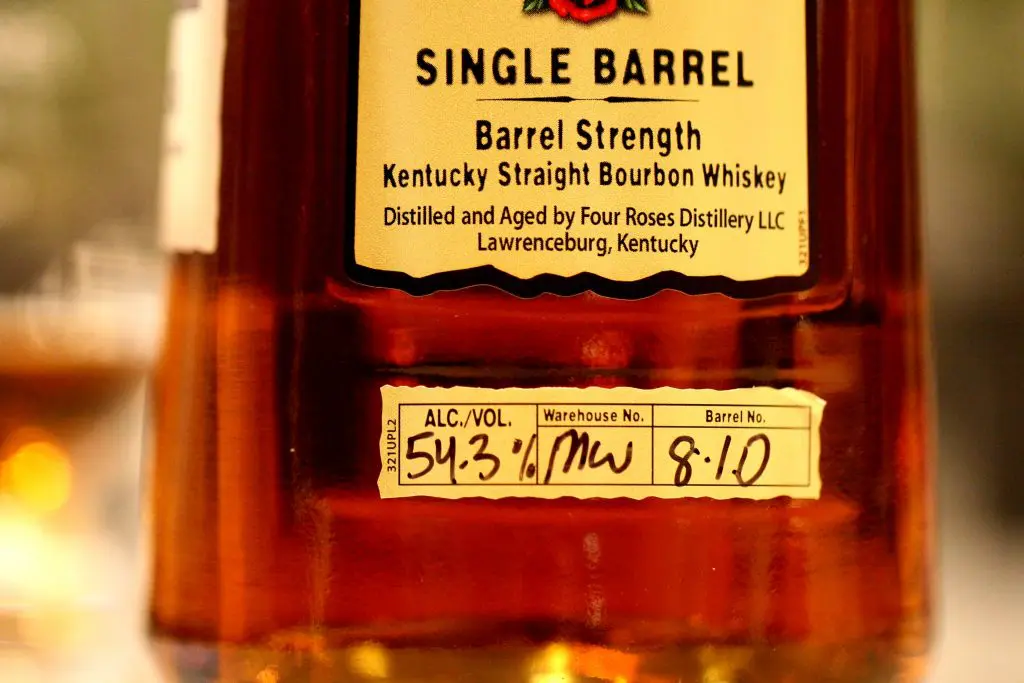 Nose: The nose seems much different from what the description card tells me I'm supposed to get for this recipe. Christmas-time fruitcake and raisin bread pudding give some fantastic sweet baked goods scents. There's even a decent amount of spice with a lovely mulled spiced apple cider scent that adds even more to the depth.
Palate: Keeping up with the vivid baking spices and baked goods from the nose, the palate drums up sweet nectarines, buttery cinnamon pinwheels, and sweet and creamy orange candies. A nice touch of spice becomes present with black pepper flakes and ground ginger to keep things interesting.
Finish: Once again, sweet bakes goods permeates all the way until the end with baked cinnamon apple pie. The fruit notes become even more in depth with cherries and strawberry jam.
Score: 7.7/10
I may not be as big of a fan of OESQ (where I'd probably rank it last on list of recipe rankings for Four Roses), but I must admit that this bottle/barrel was an excellent one. The sweet dessert traits was compelling and the spice level was much more than I would've expected from a Q yeast strain, but it was delicious nonetheless. So if you're thinking of skipping over these, maybe take another look or ask for a sample. The stigma against these recipes have us leaving too many of these good bottles on the shelf.
Rating Breakdown
1 | Disgusting | Drain pour
2 | Poor | Forced myself to drink it
3 | Bad | Flawed
4 | Sub-par | Many things I'd rather have
5 | Good | Good, solid, ordinary
6 | Very Good | Better than average
7 | Great | Well above average
8 | Excellent | Exceptional
9 | Incredible | Extraordinary
10 | Insurpassable | Nothing Else Comes Close
Featured Products
Description:

The Aged & Ore Neat Traveler is a complete travel kit for spirits. We combined our widely praised Neat Glass with one of our 3oz Flight Bottles and housed them together in a custom EVA travel case. Perfect for a night away with your favorite pour. The tie
Description:

The Aged & Ore Bottle Flight is a premium set of 4 custom silicone wrapped glass bottles designed to transport and share samples of your favorite spirits. The flight bottles come in a custom EVA travel case that fits perfectly in any small bag. An Aged &
Description:

This Bundle combines two of our crowd favorite products, creating the ultimate travel bundle to bring along your favorite spirits and glassware. Bundle Includes: Neat Traveler (Gray) Bottle Flight (Gray) Note: This bundle is only available in gray and col
*Bourbon Culture is reader-supported. When you buy through links on our site, we may earn an affiliate commission.