*Bourbon Culture is reader-supported. When you buy through links on our site, we may earn an affiliate commission.
Products from minority-owned spirits producers are hard to come by in the whiskey landscape. Admittedly, there's a good chance that most people aren't seeking out this information as they scan the shelves for their next bottle.
But it's a nice surprise when you learn that the bourbon or rye you just bought is helping to make the whiskey scene that much more inclusive. The Bourbon Culture's team is proudly founded by a minority and we strive to help foster the growing diversity among spirits drinkers.
With that being said, we review all of our whiskies with a blind eye to any outside factors and look solely at what's in the bottle.
Fort Mosé 1738 Bourbon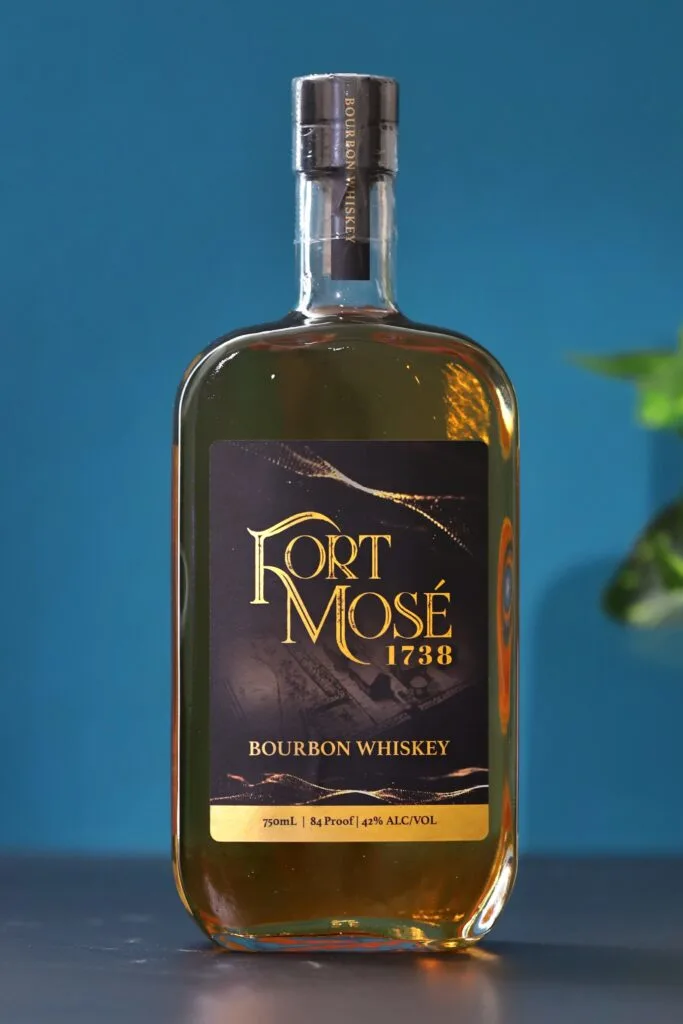 Recently, a bottle of bourbon was sent our way by the Fort Mosé team located in West Palm Beach, Florida. This is an 84 proof sourced bourbon from Indiana and it is not labeled as Straight. That's a bit odd because Straight designations are the norm these days (especially when it appears to fit all of the requirements to be).
It also carries no age statement. TTB regulations and wording are confusing, but that probably makes it right around 4 years old (it shouldn't be less). Actually, I can pretty much verify it's four years old. Here's how:
If you visit the website and go to the section where you can buy a bottle for yourself (the price is $51.99), you'll see a picture of Victor G. Harvey standing with a bottle of his bourbon next to a couple barrels that come from MGP's "Ross and Squibb" Distillery in Lawrenceburg, Indiana.
In fact, you can even see the white tag that all MGP barrels have attached to it indicating the DSP and even a portion of the tag where it's ripped but still says "Indiana, LLC." Then it gives a code which says "18D14-D11." Deciphering this code is easy, it was distilled on April 14, 2018. The D11 indicates a specific lot production number unique to MPG.
Seeing as how I got this bottle at the beginning of January, 2023, I would put the contents of it at 4.5 years old. Future bottlings will likely continue to be bought and bottled at this age. It also shows that Fort Mosé has sourced the 21% ryed bourbon mash bill (75/21/4) otherwise known as "LESV."
The picture shows barrels with a bunghole on the head of the barrel, not side. This indicates it has been aged upright, in a palletized warehouse. MGP has built (or purchased) a lot of concrete floor, metal roof/walls warehouses in the last 10 years.
These are primarily used for their customers who want their whiskey younger and more frequently. The Lawrenceburg, IN brick warehouses are more often used for longer-term aging. Anyway, I'm not saying that one is superior to another, this is just good information to know.
The website generally lacks information on the bourbon and instead references the brand's name a lot. Here's an excerpt:
In 1726, thirty-eight African born slaves would escape from the Carolinas, head south and seek refuge amongst the Spanish just two miles north of St. Augustine, Florida. Known for being skilled workers and farmers, these brave men and women also fought alongside the Spanish and their Indian allies against their former masters. In 1738, the governor would declare Fort Mosé the first free Black town in the United States.
Fort Mosé 1738 Bourbon Whiskey was created by African American spirits maker Victor G. Harvey Sr. and is bottled at his very own Palm Beach Distillery located in West Palm Beach, FL.
While that's a great story (one that I didn't previously know, but am happy to have learned), I wish they'd expand more on why they chose to bottle this bourbon at 84 proof. Even if the proof was covered up, the color of the liquid looks thin and more yellow-ish than caramel.
I am going into this review with a bit of skepticism on my mind as I pour a glass, but then I remember another recent bottle I reviewed from Whiskey Du Nord (another Black-owned distilling business located in Minnesota) and how surprised I was at their 80 proof whiskey. So maybe this will surprise me too. There's only one way to find out though. I sampled this neat in a glencairn.
Tasting Notes
Nose: Everything on the nose seems faint, almost like I'm smelling the glass from further away than usual. I can pick up on vanilla right away but there is a bit of young, burnt wood that attaches itself to it. Cornmeal is another note I pick up on. The sugars within manifest themselves more as refined sugar rather than the darker, more developed ones like caramel or molasses. I do get a bit of baked apple though, which is nice.
Palate: Lacking a better word for my opening thoughts, I'm going to have to go with "smooth." Honestly, that's probably the targeted profile note that the creators of this bourbon were trying to go for. What I mean by that is the burn is minimal, but the depth of the flavors suffers.
This is probably a trade-off that was agreed upon. One thing that is surprising is that alcohol (I'm talking ethanol) is easy to pick out because the other flavors are muted. It doesn't ruin the experience, it's just an observation. The youth is hard to hide but honey, dry wood, cinnamon and vanilla blossom are the notes you'll find if you look past everything else.
Finish: The finish is short, thin and watery. More spices pop up than they did on the palate and the orchard fruit flavors still linger, but otherwise not much else is here to note. The finish is short in duration but doesn't leave any off-notes.
Score: 5/10
It's hard to rate a bourbon that seems like it was created with the sole intention of being used as a mixer. At most, it will probably see service in a rocks glass with a big ball of ice. But you know what? All of that is fine! I would typically denounce other labels that would give me a bourbon with these notes if they tried to excuse it away with putting exotic stories, listing rare heritage, citing a big age statement or blending it with inferior whiskies.
Come to think of it, I'm specifically talking about the Orphan Barrel line of whiskies when I mention all of these transgressions. But Fort Mosé isn't trying to be any of that. They just want to showcase a unique story and give their intended customer a serviceable whiskey at a proof that caters to a larger audience. I understand that.
Final Thoughts
While I appreciate Fort Mosé for sending a bottle our way, I don't think I'm their intended audience. I would, however, certainly look forward to a cask strength version if they ever produce it (and hopefully they put some of those barrels outside in the Florida sun for a year!).
I also think the price ($52) is a bit steep for a bottle with these specs. For that money, you can get a 5 year old Remus Single Barrel Store Pick (at cask strength) for about the same price. Here's to hoping for more proof and more selection in the coming years!
Featured Products
Description:

The Aged & Ore Neat Traveler is a complete travel kit for spirits. We combined our widely praised Neat Glass with one of our 3oz Flight Bottles and housed them together in a custom EVA travel case. Perfect for a night away with your favorite pour. The tie
Description:

The Aged & Ore Bottle Flight is a premium set of 4 custom silicone wrapped glass bottles designed to transport and share samples of your favorite spirits. The flight bottles come in a custom EVA travel case that fits perfectly in any small bag. An Aged &
Description:

This Bundle combines two of our crowd favorite products, creating the ultimate travel bundle to bring along your favorite spirits and glassware. Bundle Includes: Neat Traveler (Gray) Bottle Flight (Gray) Note: This bundle is only available in gray and col
*Bourbon Culture is reader-supported. When you buy through links on our site, we may earn an affiliate commission.