*Bourbon Culture is reader-supported. When you buy through links on our site, we may earn an affiliate commission.
Rural Inn #3 and #5
Back in May 2019, I was graciously invited by the owner of Rural Inn to come along on two barrel picks. We would be going to both Heaven Hill to pick out an Elijah Craig barrel and to MGP in Indiana for their new Rossville Union Rye private selection bottle. I still remember the barrel pick vividly as we were led into a rickhouse where the smell of aged wood and distillate was intoxicating (in more ways than one) to anyone that stepped foot inside.
Picking the Barrel
There was another guy in our group who was on his first barrel pick as well and we both bonded over the fact that we could barely sleep the night before because we were so excited. Another guy in our group who had been on several barrel picks leaned over after hearing us and said "no matter how many of these I go on, I still get that feeling too…"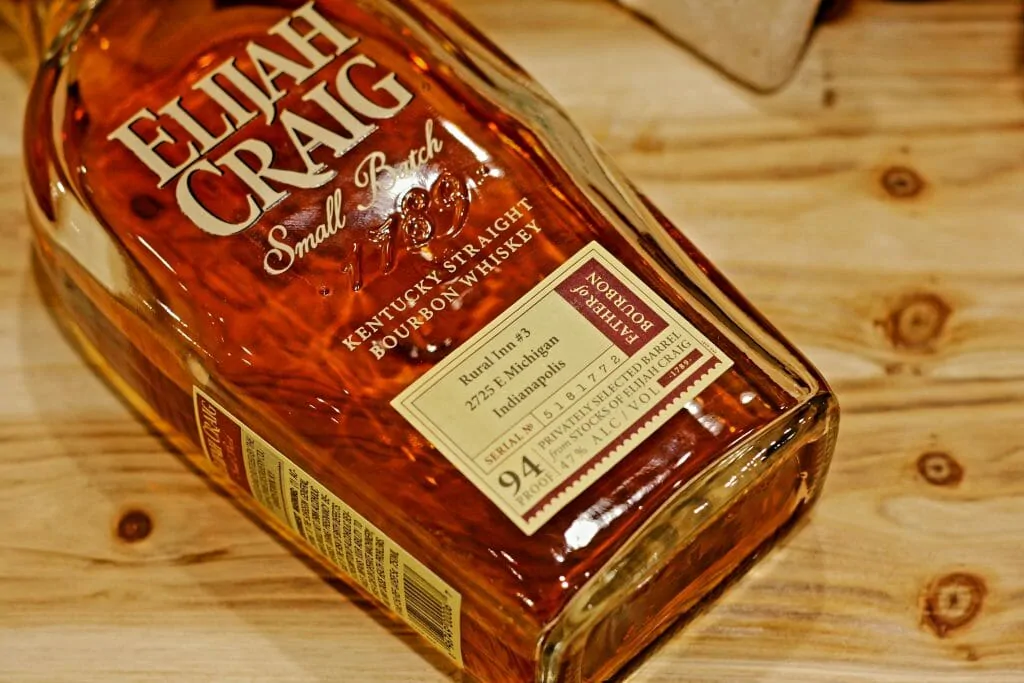 The barrels they had waiting for us were marked with a dry erase board with what age and barrel proof they were so we knew what we were tasting. We each got a turn at the whiskey thief and immediately dove right in with the Heaven Hill issued glencairns. Out of an 8, 9 and 10 year old barrel, we ended up agreeing that the 9 year barrel was the best all around barrel in the bunch. Although many of us pine for the day where Elijah Craig re-introduces the 12 year age statement back on the label, the truth is that many of these barrels are perfect right at the 8 or 9 year mark (I was involved in another pick of Elijah Craig later on that confirmed this).
The Pick is in!
Fast forward to 5 months later and I got the call that the barrel picks were in. I raced to the store to pick up my bottle and decided that there was no better way to do drink this than to do a semi-blind comparison between this new pick (Rural Inn #5) and a previous bottle that I was not involved in, Rural Inn's Elijah Craig Barrel #3. Would my pick win? These were both sampled semi-blind, neat and in a glencairn.
Blind Glass #1
Nose: The nose opens with soft baking spices, warm caramel sauce, fudge brownies and fragrant cedar wood
Palate: I always get a good hit of peanuts when dealing with Heaven Hill bourbon and this was no different. There was chunky peanut butter, cinnamon, chocolate chunk cookies and vanilla sweet cream.
Finish: A rich finish of Snickers candy bar chased with a shot of cinnamon-spice latte. There is also a small amount of menthol and oak present to give it some depth.
Score: 6.6/10
Blind Glass #2
Nose: This glass is noticeably more spicy and tannic on the nose. Seasoned wood, cardamom, cinnamon and black pepper all add spice while vanilla extract sort of sweetens things up.
Palate: The palate is a mix of sweet and spicy with caramel fudge as well as sweet and spicy cinnamon heat.
Finish: Peanuts, peppercorns, light brown sugar, sweet mint and orange zest.
Score: 6.4/10
Blind Reveal
Glass 1: Elijah Craig Store Pick #3
Glass 2: Elijah Craig Store Pick #5
Winner: Store Pick #3!
When the results were revealed, I was a little let down that my store pick did not win. Pick #3 is a dessert lover's dream with all of the chocolate and peanut butter. As for my pick #5, it has its own charm with all of the tannic baking spices that roll around on the tongue and fill the nostrils. It's certainly not bad, it's just not as complete as pick #3. Regardless, the experience will give me stories to tell for years to come and that was the best part about this bottle.
Rating Breakdown
1 | Disgusting | Drain pour (Example: Jeffers Creek)
2 | Poor | Forced myself to drink it
3 | Bad | Flawed (AD Laws 4 Grain BiB, Clyde Mays anything)
4 | Sub-par | Many things I'd rather have (Tincup 10 year)
5 | Good | Good, solid, ordinary (Larceny, Sazerac Rye)
6 | Very Good | Better than average (Buffalo Trace, OGD BiB)
7 | Great | Well above average (Old Ezra Barrel Proof, Old Weller Antique)
8 | Excellent | Exceptional (Michter's Barrel Proof Rye, Four Roses Barrel Strength)
9 | Incredible | Extraordinary (GTS, 13 Year MGP or Canadian Rye)
10 | Insurpassable | Nothing Else Comes Close (William Larue Weller)
Featured Products
Description:

The Aged & Ore Neat Traveler is a complete travel kit for spirits. We combined our widely praised Neat Glass with one of our 3oz Flight Bottles and housed them together in a custom EVA travel case. Perfect for a night away with your favorite pour. The tie
Description:

The Aged & Ore Bottle Flight is a premium set of 4 custom silicone wrapped glass bottles designed to transport and share samples of your favorite spirits. The flight bottles come in a custom EVA travel case that fits perfectly in any small bag. An Aged &
Description:

This Bundle combines two of our crowd favorite products, creating the ultimate travel bundle to bring along your favorite spirits and glassware. Bundle Includes: Neat Traveler (Gray) Bottle Flight (Gray) Note: This bundle is only available in gray and col
*Bourbon Culture is reader-supported. When you buy through links on our site, we may earn an affiliate commission.