*Bourbon Culture is reader-supported. When you buy through links on our site, we may earn an affiliate commission.
Rural Inn Store Pick
Corsair, the young upstart distillery based out of Nashville, TN, was one of the hundred or so distilleries that received tutelage from the late, great Dave Pickerell. Without going too in depth on the whole backstory, Dave basically gave young distillers the knowledge from buying grain all the way to bottling their whiskey. Corsair's founders have obviously enjoyed a good amount of success to date because I continue to see their products on more shelves around Indiana.
Honestly, I used to avoid their products because of the cheesy bottles, whiskey's that didn't seem like they'd interest me and general non-interest in trying the brand. Then one day at the Rural Inn, we were gathering around to sample different bottles of rye whiskey that we had brought in and the owner, Ray, brought out a bottle of this Corsair Ryemageddon from a store pick he had done 2 years prior. I initially thought I'd snub the bottle, but since he went all the way to the back to bring it out, I figured I'd at least humor myself and pour a glass. This was bottled at 128.2 proof and if there was an age statement, I did not see one.
Without further ado, here are the notes I've compiled since then. These were taken while drinking this neat and from a glencairn.
Tasting Notes
Nose: My initial thoughts were that this did not smell like any rye whiskeyI've ever had before. There was not a rush of herbs, flowers or botanical notes. Nor was there a bourbon scent. Instead, I got ground espresso beans, burnt caramel, semi-sweet chocolate chips, a touch of vanilla. There was also an amazing smokey character like hickory smoke from a BBQ.
Palate: The palate starts out young and somewhat hot, but the flavors are thick and nuanced like strong black coffee, baking chocolate and black pepper flakes. The smoke from the nose translates on the tongue with the bark on a smoked brisket and charred oak. But the sweetness never lets this whiskey get bitter or astringent because there's plenty of sweet creamy fudge, sweet mint and grilled peaches. I've never had anything like this before.
Finish: The finish is just like a grasshopper pie (creme de menthe, chocolate graham cracker crust). The always present coffee grounds adds an irresistable layer of semi-bitterness, but it's accompanied by cigar ash and ancho chili pepper flakes to give it a nice, smoldering finish.
Score: 8.1/10
If you love peated scotch, Lagavulin in particular, you'll be able to sink right into this one without any issues. It is just so damn different from any rye whiskey I've ever had before. But whereas the smoke profile would normally make me try to draw comparisons with High West's Campfire whiskey, I do not believe that this is similar to that product at all. Everything is so odd and powerfully pungent, but yet it all just seems to work so damn well. The chocolate rye really works its magic here to a level I've never experienced before.
Final Thoughts
If you want a chocolate note in your whiskey, THIS IS THE ONE TO GET. If you love coffee notes in your whiskey, THIS IS THE ONE TO GET. And although I try to keep my reviews as straightforward as possible, I will venture off the beaten path for a moment and say that I have fallen for this bottle HARD and simply must find more. I have not had the standard 94 proof version of this bottle, which I'm sure is fine, but I simply must find a bottle of this in cask strength form again.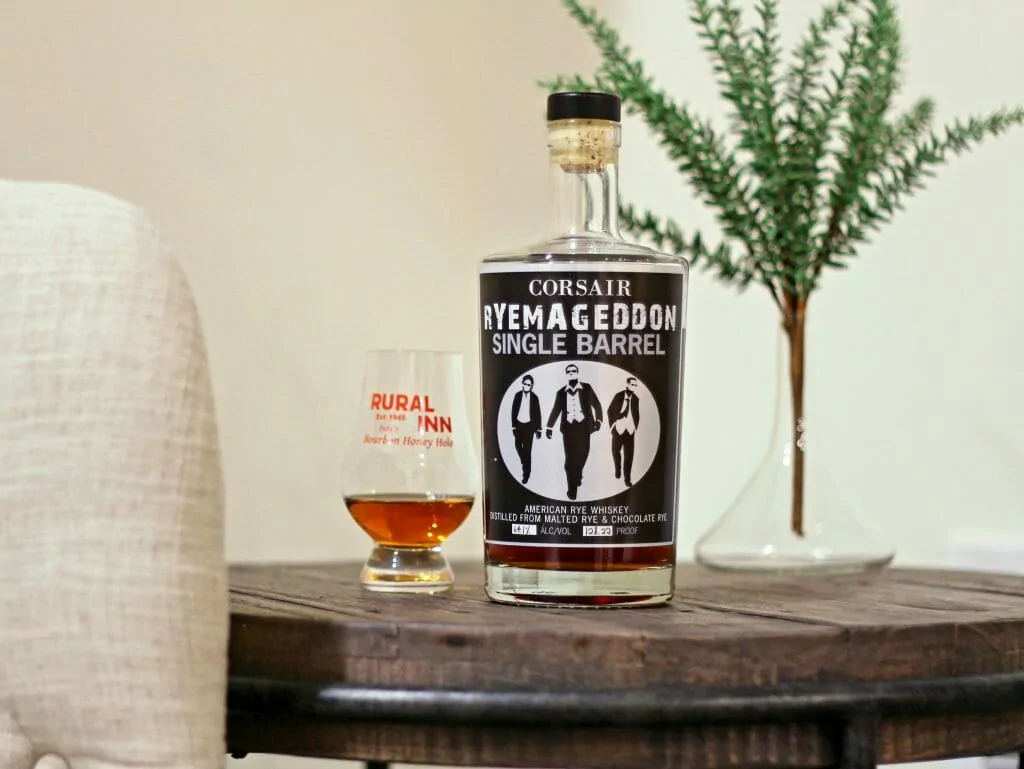 Ratings Breakdown
1 | Disgusting | Drain pour (Example: Jeffers Creek)
2 | Poor | Forced myself to drink it
3 | Bad | Flawed (AD Laws 4 Grain BiB, Clyde Mays anything)
4 | Sub-par | Many things I'd rather have (Tincup 10 year)
5 | Good | Good, solid, ordinary (Larceny, Sazerac Rye)
6 | Very Good | Better than average (Buffalo Trace, OGD BiB)
7 | Great | Well above average (Old Ezra Barrel Proof, Old Weller Antique)
8 | Excellent | Exceptional (Michter's Barrel Proof Rye, Four Roses Barrel Strength)
9 | Incredible | Extraordinary (GTS, 13 Year MGP or Canadian Rye)
10 | Insurpassable | Nothing Else Comes Close (William Larue Weller)
Featured Products
Description:

The Aged & Ore Neat Traveler is a complete travel kit for spirits. We combined our widely praised Neat Glass with one of our 3oz Flight Bottles and housed them together in a custom EVA travel case. Perfect for a night away with your favorite pour. The tie
Description:

The Aged & Ore Bottle Flight is a premium set of 4 custom silicone wrapped glass bottles designed to transport and share samples of your favorite spirits. The flight bottles come in a custom EVA travel case that fits perfectly in any small bag. An Aged &
Description:

This Bundle combines two of our crowd favorite products, creating the ultimate travel bundle to bring along your favorite spirits and glassware. Bundle Includes: Neat Traveler (Gray) Bottle Flight (Gray) Note: This bundle is only available in gray and col
*Bourbon Culture is reader-supported. When you buy through links on our site, we may earn an affiliate commission.