*Bourbon Culture is reader-supported. When you buy through links on our site, we may earn an affiliate commission.
I've been feeling nostalgic about Belle Meade lately. I think it has to do with the realization that the brand is pretty much dead at this point and that the Nelson Bros brand that has replaced it seems boring and uninspired (at least to me).
But I've made my peace that it's all over. There's nothing to do about it anyway except try and review their entire lineup for posterity. Surprisingly, I have not had a chance to drink a bottle of Belle Meade Reserve until now, hence why I'm so late to the party.
I can best sum up Belle Meade's existence like a firework. It had a fast trajectory upwards (2015-2017) followed by a brilliant explosion of color and sound (2018-2020) followed by embers that slowly burned out as they fell to the ground (end of 2020-2022). This bottle of Belle Meade Reserve that I'm reviewing today represents the embers that streamed down from the sky after it was all done.
The Difference Between Belle Meade Cask Strength Reserve and Reserve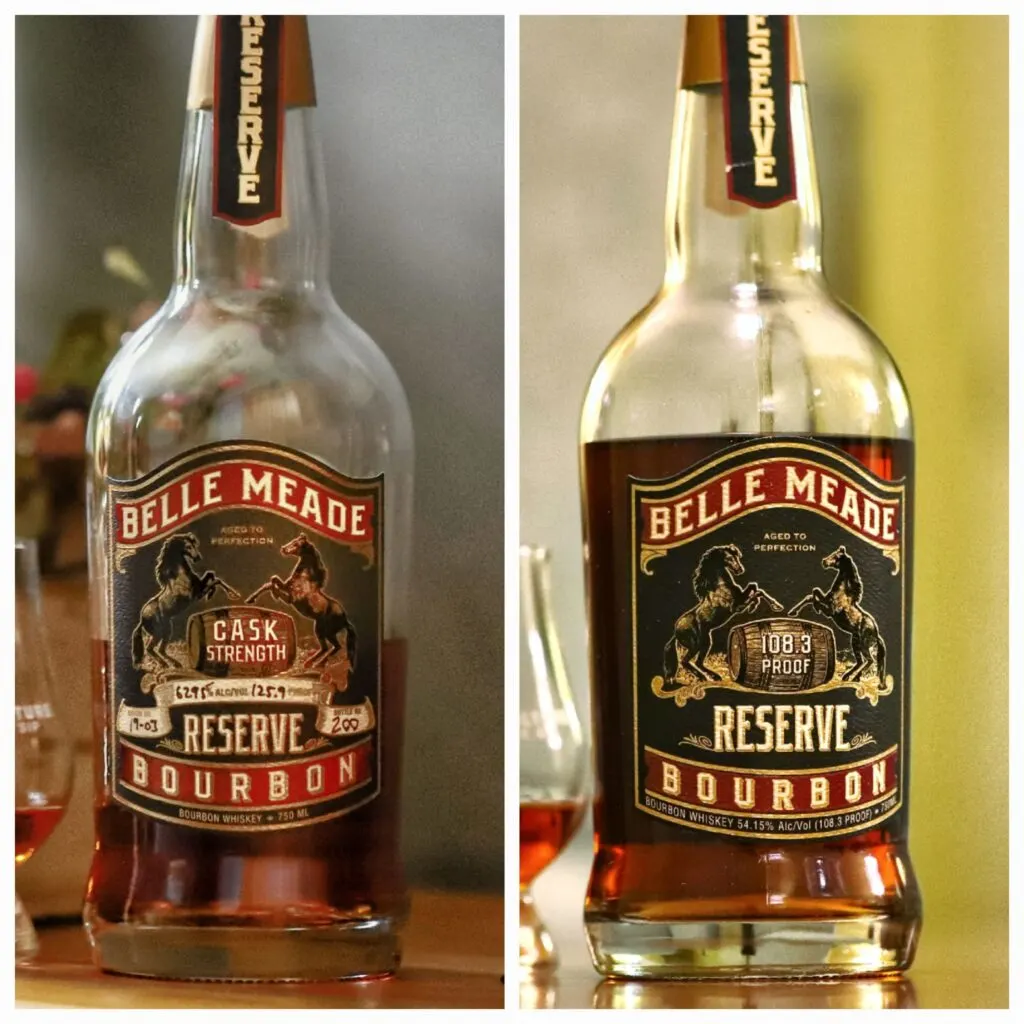 The concept of Belle Meade Reserve stems directly from the label it replaced – Belle Meade Cask Strength Reserve. Those two extra words may not sound like much has changed but there's a lot more than meets the eye.
In late 2018, Belle Meade wanted to create a bourbon that would slot neatly between their Sour Mash Bourbon (90.4 Proof) and all of the single barrels they were releasing. What they ended up creating was Belle Meade Cask Strength Reserve; a blend of seven barrels aged 7 to 11 years old.
Each batch was guaranteed to have at least one barrel that was 11 years old. The price was supposed to position the bottle between the two previously mentioned labels – about $60. Each batch would have its own identifying batch number and be bottled at cask strength.
There were 72 batches in total (roughly 3 were released per month) that ranged anywhere from 110.4 proof all the way up to 125.9 proof. Starting around Batch 19-20, we stopped seeing varying proofs as each subsequent batch seemed to be bottled at 113.6 proof, then it began to decline starting with Batch 20-01 until the label was cancelled after Batch 20-08 – which was bottled at 110.4 proof.
For a complete list of all batches, scroll to the bottom of this list I created.
Nelson's Green Brier pivoted the name to Belle Meade Reserve and said that they were now bottling the line at a steady 108.3 proof. Their reasoning was that the previous batches had too much variation (did they mean that some were too awesome?) and that they learned that the bourbon had a sweet spot at 108.3 proof anyway.
Yeah, okay. I think the truth was easy to see – Belle Meade's remaining highly aged barrels were rejects/leftovers that kept getting passed over for use in the single barrel program. Their proof was probably too low for enthusiasts to bother with, so they dumped 'em in Cask Strength Reserve batches.
They were struggling (or just gave up) to acquire any more barrels from MGP because they were either cut off or Nelson's Green Brier's new owners – Constellation Brands – said they wanted to transition to their own bourbon to cut costs. After all, MGP's barrel costs were steadily increasing at this time.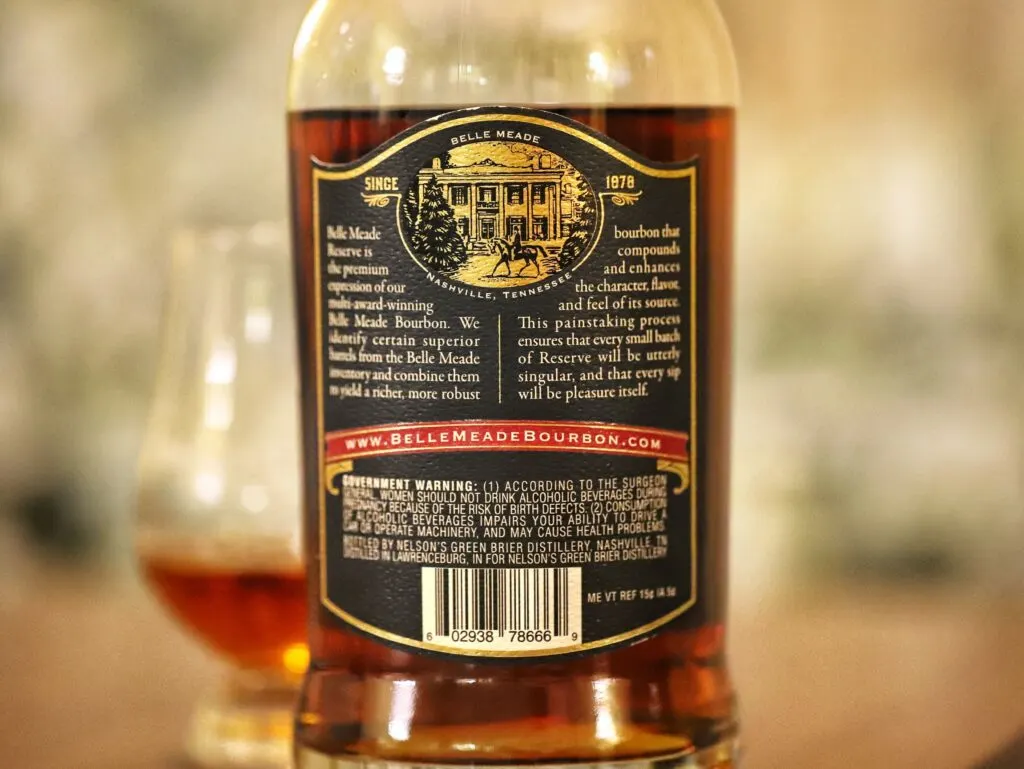 Belle Meade's website claims that "Reserve" would still be made up of barrels ranging from 7 to 11 years old like the previous line had been, but I'm skeptical that this stat continued after the initial "batch" was released.
My skepticism comes from this blog post about age statements in PR materials. Read through what Wade has to say and then look at the comments section to understand why implied age statements shouldn't always be treated as factual. Rarebird101 offered a great summary in the comments section about age statements implied in press releases when he says:
The initial release is most likely the age as stated in promotional materials; however, should there be future releases, the company is no longer married to an age, nor would they face the ridicule of dropping an age (had it been on the label of the initial release).
So did Belle Meade Reserve start off their inaugural batch by using barrels aged 7 to 11 years old? Probably! But if there is one reason why I think they ditched using barrels that old in later batches, it's because of the price they were charging; about $50-55 depending on the store.
This doesn't follow what literally every other producer was charging for their sourced MGP bourbon with ages and proof like that. At that time, Smoke Wagon was selling their Uncut & Unfiltered Batches for $65.
Smoke Wagon's owner, Aaron Chepenik, claimed he couldn't get his hands on anything older than 5 or 6 years from MGP starting in 2020 and that he was forced to blend with 4, 5 and 6 year old barrels.
The point I'm trying to make is that if there were truly 7 to 11 year old barrels left to blend together for Belle Meade Reserve in 2021 and 2022, then they were only robbing themselves of profit by selling these bottles so cheaply.
And if you know anything about Constellation Brands, they will never allow money to be lost on a product they own. My best guess is that a majority of Belle Meade Reserve bottles out there use barrels as young as 4 years old and maybe as old as 8.
One more thing before I get into my tasting notes – I want to talk about what kind of bourbon was used to create Belle Meade Reserve (and others). I have found that this topic has been simply glossed over by other reviewers.
Belle Meade has claimed somewhere along the way that they use two different mash bills and two different yeast strains to create a recipe that averages out to 64% corn, 30% rye and 6% malted barley.
If you know your MGP bourbon, you'll immediately realize that many things seem off about this. First of all, the two main MGP bourbon recipes everyone is familiar with are 60/36/4 (LBSV) and 75/21/4 (LESV). There have been other recipes released over the last 10 years that have shown us there are many more besides those two.
We've been aware of the 70/21/9 recipe for a couple years now and recently there has been a 51/39/10 released. Frankly, there's probably a dozen more recipes of bourbon that we aren't aware they make.
The most logical breakdown that I can come up with is for every 3 barrels of 60/36/4 bourbon that was used, one barrel of 70/21/9 was used. That comes out to a ratio of 65/28.5/6.5 but it's getting close.
I also want to highlight the fact that Belle Meade says their sourced barrels use two different yeast strains. Up until this point, I have been under the impression that MGP only used the V yeast strain after Seagram's dissolved.
But there is a murky period of time between 2007-2011 when CL Financial/Angostura owned the Lawrenceburg Distillery (which went by "LDI" at the time) when there seemed to be a lot of changes internally.
Larry Ebersold stepped down as Master Distiller and many MGP purists agree that bourbon from this time period tastes different than the kind made from 2000-early 2007. This is all conjecture at this point, but what I'm saying is that we can no longer assume that every whiskey that came out of the Lawrenceburg Distillery during that time frame stuck with the same recipes and techniques.
Belle Meade must have been the recipient of a batch of barrels with a yeast strain we don't know about. Lawrenceburg Distillery has more stories buried deep inside its brick walls than we'll ever know.
So back to the bourbon at hand. It's time to taste it and find out once and for all if it tastes as old as they say it is and if it is good enough to go out and scoop up the remaining bottles on the shelf for memory's sake. I sampled this neat in a glencairn.
Tasting Notes
Nose: Classic MGP bourbon notes of vanilla, brown sugar and oak start off the nose in a positive direction. I'm also picking up on fruitier scents like apricots and cherries. There's even a note that has a tinge of acidity to it, like an orange oil extract.
Overall, the oak is sweet and moderately impactful, certainly much more than their Sour Mash Small Batch would be. There's also a floral essence that is interesting, but probably stemming from the high-rye mash bills.
Palate: Expecting oak or brown sugar first, I'm surprised to find the fruit notes leading the way. Lots of citrus peel (orange, lemon and everything in between) pair up with sweetened stone fruit like cherries and apricots. It's pleasant, if unexpected, to find in a product like this.
The floral notes also seem amplified along with herbal notes like mint and pine. The oak from the nose is absent but some tobacco leaf takes its place. There are peppery bursts that accompany cinnamon stick as well as star anise. The heat is moderately controlled, but it feels like there is a decent amount of youth to it. Another thing that confirms my feeling that younger barrels were used is a sort of grainy texture and taste that pops up from time to time throughout the session.
Finish: More of the same on the finish – I'm still getting a lot of heavy rye notes like herbal, floral and citrus flavors. There's even some licorice. It's not offensive but it's also not what I was expecting based on the nose.
The caramel, vanilla and oak notes are almost completely covered up by them, leading me to believe this has a good amount of 4-5 year old barrels in the mix.
Score: 6.7/10
Expecting the worst and hoping for the best, Belle Meade Reserve was a mixed bag. The nose held great promise for the flavors ahead. I had drank a glass of Belle Meade Cask Strength Reserve before I poured this bottle and noticed many similarities between the two.
But the Palate and Finish both spoke a different story on my tongue with plenty of youthful rye notes. On their own, this is not a bad thing. I actually find enjoyment in youthful MGP rye whiskey products or high-rye bourbons for this exact reason; they're so bright and lively.
Belle Meade Reserve has to depend on those kinds of notes because it is noticeably missing more desirable aged MGP bourbon notes like a rich mouthfeel and balanced tannins.
Final Thoughts
Belle Meade Reserve's promise of offering the same quality (or better) bourbon for less money than the Cask Strength Reserve did not come true. But don't mistake that for me saying it's an outright failure. I would recommend that you buy this at retail before it's gone forever, but I won't go as far as to say you'll regret it if you don't.
There will always be a producer out there that bottles up 4 to 6 year MGP bourbon and sells it around this price range. So if you can't find a bottle of this, you do have options.
As I wrap this up, I can only hope that one day this brand will be resurrected in a similar fashion to OKI. Once New Riff (who previously owned OKI) ran out of sourced MGP bourbon, they discontinued the brand.
Later they sold it to a group of guys who wanted to bring it back into its glory days of sourced MGP. They're doing it slowly and have a good future in front of them. Let's hope that Belle Meade's demise is also short lived and we'll get to see them return to glory sometime in the future.
Featured Products
Description:

The Aged & Ore Neat Traveler is a complete travel kit for spirits. We combined our widely praised Neat Glass with one of our 3oz Flight Bottles and housed them together in a custom EVA travel case. Perfect for a night away with your favorite pour. The tie
Description:

The Aged & Ore Bottle Flight is a premium set of 4 custom silicone wrapped glass bottles designed to transport and share samples of your favorite spirits. The flight bottles come in a custom EVA travel case that fits perfectly in any small bag. An Aged &
Description:

This Bundle combines two of our crowd favorite products, creating the ultimate travel bundle to bring along your favorite spirits and glassware. Bundle Includes: Neat Traveler (Gray) Bottle Flight (Gray) Note: This bundle is only available in gray and col
*Bourbon Culture is reader-supported. When you buy through links on our site, we may earn an affiliate commission.