*Bourbon Culture is reader-supported. When you buy through links on our site, we may earn an affiliate commission.
If you walked into a liquor store 15 years ago versus walking into one today, one of the biggest differences would be that the bourbon's on the shelves today would be noticeably younger than they were back then.
The reason why centers around the fact that producers are selling their products almost faster than they can make them, so they can't let these barrels age a second longer than is necessary.
Lack of Aged Products
This lack of aged products has hit Non-Distiller Producers (NDPs) the hardest as they find their barrel brokers have no quality aged whiskies left to sell. The result is those NDPs are now going to great lengths to find any kind of whiskey that can give them an age statement that really jumps out on the shelf for a price they can still make a profit off of.
But with Kentucky distilleries either running out or charging absurd prices for their highly aged barrels, where else is there to look? The answer has increasingly become Canada.
If you're a bourbon enthusiast, then you'd already know that Canada cannot technically produce "bourbon." Even a majority of their rye whisk(e)y would not be considered rye whiskey even if the distillery was picked up and placed within our borders.
Many Canadian producers use artificial flavorings/colorings, put the whiskey in the barrel at too high of a proof or even age it in used barrels. All of those are no-no's under the laws of bourbon and straight rye whiskey. But the Canadians use multi-grain mashbills like our bourbon and rye whiskey and roughly the same distilling techniques, so it's not like there are no similarities.
The fact that Canadian Whisky has typically not sold that well in the US means that producers had a lot of stock setting around in their warehouses while the ones in Kentucky ran dry. Most of these whiskies have come from Canadian distilleries like Hiram Walker, Gimli (where Crown Royal is primarily from), Valleyfield or Alberta Distillery.
But a particularly strange, highly aged and high proofed Canadian whiskey had found its way into a large barrel broker in the United States. Gene Nassif, one of the owners of Cat's Eye Distillery, bought a handful of them to release under his "Obtanium" line early in 2021. They were 27-year-old barrels and were over 140 proof.
He charged $200 per bottle, but they were so unique that enthusiasts flocked to them, price be dammed. But where did these barrels come from?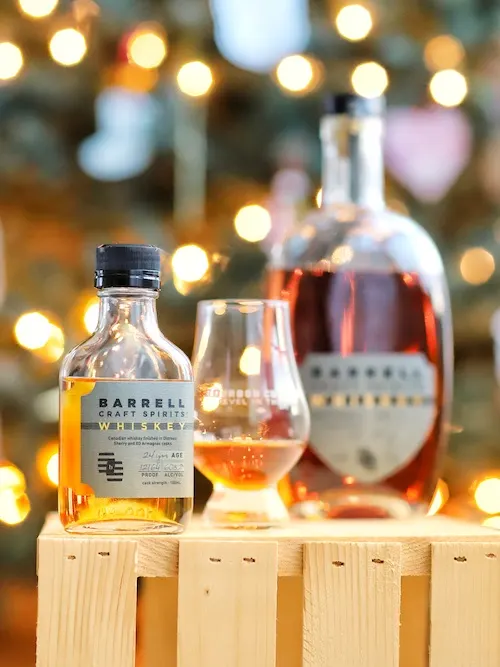 It turns out they came from the Black Velvet Distillery. Black Velvet is located just a short distance from Alberta Distillery, but they are two distinctly different operations. The Black Velvet Distillery has recently been purchased by Heaven Hill and these barrels must have been found either right before or right after the purchase and promptly sold off.
Black Velvet's standard lineup is typically aged for only 3 years, so that means these 20-something year old barrels must have been experimental or legacy-type barrels that were set aside for a special occasion. We can deduce that the mashbill is likely the standard Black Velvet high-corn mashbill blended with a little bit of rye whisky before going in a used barrel at 154 proof.
For comparison, US bourbon cannot be stored in a used barrel or enter the barrel higher than 125 proof. And while it may not have been distilled to a proof high enough to be considered a Light Whiskey, it basically has all of the characteristics of one.
Barrell Craft Spirits Gray Label
Barrell Craft Spirits also grabbed ahold of these barrels in an effort to bring back their BCS Gray Label Whiskey line, which hadn't been seen since 2018. That release used a very limited amount of 25-year-old corn whiskey from MGP that was finished in special Sercial Madeira casks. I rated that release very high and wondered aloud if it was more because of the finishing barrels than the base whiskey. Regardless, it was delicious.
This new BCS Whiskey release has the same vibe to it because it is also highly aged and has been finished in Oloroso and Armagnac barrels. The base whiskey is still a bit of an unknown here, but that is what tasting notes and reviews are for. So let's see if Barrell can make this year's BCS Whiskey release just as memorable as the last one. I tasted this neat in a glencairn.
Tasting Notes
Nose: There is an underlying graininess to the nose that is present with each sniff of the glass. Luckily, the finishing barrel's aromas seem to have impacted its character for the better. Notes of wine, white grape juice and ripe currants create a fruity atmosphere to start with. There is also a surprising amount of vanilla. However, at 24 years old, there are very few tannic notes to be found. If you were looking for this whiskey to pop you in the nose with the scents of an old oak cupboard, you've came to the wrong place.
Palate: The heat is restrained on this for being such a proof and having such a thin body to it. The base whiskey's high barrel entry proof does it no favors here, regardless of it being distilled before the Y2K computer glitch threatened to destroy the world. That in itself makes me want to stop the review and declare that the value just isn't there.
Just like in the nose, the finishing barrels fruit notes try to salvage what it can by filling your mouth with notes of peppery wine, black cherries, leather and a distinct flavor of something made in a cast iron skillet. Strange.
I also find notes of bitter wood and licorice to be present too. There is also an underlying grassy-ness to this whiskey but I couldn't decide if it was coming from the earthy notes of the Armagnac barrels or if it was the way Black Velvet tastes at cask strength.
Finish: A nice wave of grenadine syrup, leather and some cornbread that's been made in a skillet wraps up the three most primary flavors of the finish. The complexity from the palate doesn't hang around that long and it feels a bit more one-dimensional which is likely due to the thin mouthfeel I found on the palate.
Score: 7.3/10
Barrell Craft Spirits 24-year-old whiskey comes off as a perfectly passable Private Release Whiskey (the bottles that now wear those very bright blue labels). The base whiskey seemed to be the perfect blank canvas to use with these finishing barrels. It's just a shame that the end product tasted nowhere near what the price tag would have you believe.
There are a lot of things going against this year's BCS Whiskey release, but the most important one should be that the Canadian Whiskey underneath is just not special. The specs that Black Velvet uses were probably the biggest warning signs too.
Final Thoughts
It's just hard to get a whiskey that is distilled to such a high proof and aged in a used barrel in a very cold climate to ever really transform into something more. Was it a unique find? Absolutely. But was it worthwhile? No. It could be argued that using some of those 18-year-old Kentucky Whiskey (not bourbon!) barrels Barrell used for that limited run of single barrels in 2020 would have made more sense… and a better end product.
But this is 2022 and there just aren't very many whiskies (that aren't Scotch) available at such high proofs and ages. I can understand if you swooned over this one, but in the future it may be prudent to find out the backstory on the whiskey you're buying first. It could save your wallet in the long run.
Ratings Breakdown
1 | Disgusting | Drain pour (Example: Jeffers Creek)
2 | Poor | Forced myself to drink it
3 | Bad | Flawed (AD Laws 4 Grain BiB, Clyde Mays anything)
4 | Sub-par | Many things I'd rather have (Tincup 10 year)
5 | Good | Good, solid, ordinary (Larceny, Sazerac Rye)
6 | Very Good | Better than average (Buffalo Trace, OGD BiB)
7 | Great | Well above average (Old Ezra Barrel Proof, Old Weller Antique)
8 | Excellent | Exceptional (Michter's Barrel Proof Rye, Four Roses Barrel Strength)
9 | Incredible | Extraordinary (GTS, 13 Year MGP or Canadian Rye)
10 | Insurpassable | Nothing Else Comes Close (William Larue Weller)
Featured Products
Description:

The Aged & Ore Neat Traveler is a complete travel kit for spirits. We combined our widely praised Neat Glass with one of our 3oz Flight Bottles and housed them together in a custom EVA travel case. Perfect for a night away with your favorite pour. The tie
Description:

The Aged & Ore Bottle Flight is a premium set of 4 custom silicone wrapped glass bottles designed to transport and share samples of your favorite spirits. The flight bottles come in a custom EVA travel case that fits perfectly in any small bag. An Aged &
Description:

This Bundle combines two of our crowd favorite products, creating the ultimate travel bundle to bring along your favorite spirits and glassware. Bundle Includes: Neat Traveler (Gray) Bottle Flight (Gray) Note: This bundle is only available in gray and col
*Bourbon Culture is reader-supported. When you buy through links on our site, we may earn an affiliate commission.