*Bourbon Culture is reader-supported. When you buy through links on our site, we may earn an affiliate commission.
Barrell Bourbon wraps up 2019 with its last release, the New Year 2020 batch. Since 2016 (with the bottle labeled New Year 2017), Barrell has taken multiple distillery's barrels and put them together to showcase their blending skills and finesse.
With modern Barrell Bourbon batches all being blended anyway, these releases seem a little less special. But if you look at it from the standpoint that Barrell has found a way to incorporate young distillate from craft distilleries in New York, Texas and even Illinois, then it becomes a little more impressive.
This is one of the reasons that Barrell is flourishing and probably not going to run out of ideas anytime soon, because they're learning how to use excess barrels from the little guys. This should guarantee unique batches for years to come.
I've previously held the Barrell New Year batches in high regard, so let's see how this year's turns out. I sampled this neat and from a glencairn.
Tasting Notes
Nose: A light scent of vanilla blossoms and sticky caramel begins with a bouquet of flowers following closely behind. There are some malty notes hidden within much like cereal grains, dried apples and golden raisins.
The fruit trend continues with some plantain starchiness and a little bit of citrus zest. This smells young because of the absence of a lot of spice or tannins, but there is some fragrant cedar box and a small amount of cinnamon and nutmeg.
Finally, I am trying to ignore the little bit of peanut funk that I get with Dickel distillate, but I would be lying if I didn't still notice it was there. It's not overwhelming, but it does come through.
Palate: The cinnamon heat turns up significantly on the palate. I have to believe that there is some black pepper flakes as well because the spice isn't all sweet and fragrant.
Fruit notes then start to come out like apricots, cherries, pears and even some raw walnuts. Oak and wet tobacco starts to show up, which finally begins to give away the fact that Barrell used some 10 year old barrels in this batch.
There is an underlying amount of slightly scorched caramel that goes back and forth between a sweet and a charred note, almost like caramelized BBQ sauce on a grill.
Finish: The finish keeps a sort of malty complexity with cereal grains. There's also a decent amount of oak and tobacco left over from the palate that still sticks around.
This is not as powerful as, say, a single barrel of MGP bourbon (which is undoubtedly some of the barrels used in this) but it is nice that it sticks around to add depth.
The fruit flavors set way in the background as the finish evolves into a toffee like sweetness that also sticks to your teeth.
Score: 7.9/10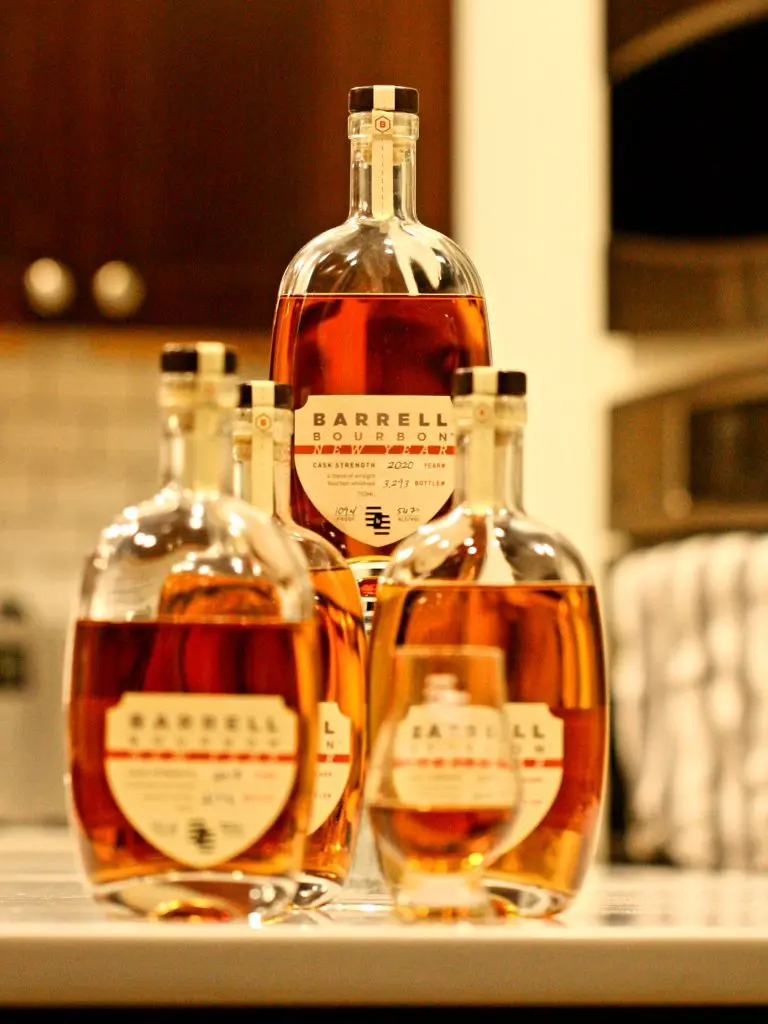 I've been lucky enough to have all 4 New Year batches of Barrell Bourbon thus far. In the grand scheme of things, I would probably rank this 3rd on my list (#1: 2017, #2: 2019, #3: 2020, #4: 2018).
7.9 is just a finger's length out of reach from being "excellent" on my scale, but that doesn't mean it's not worth the price of admission.
Very few bourbons can offer up the array of flavors that Barrell's blending team can create, and New Year is typically a bottle that really shows off their blending abilities. It's worth chasing down a bottle and experiencing for yourself.
Rating Breakdown
1 | Disgusting | Drain pour
2 | Poor | Forced myself to drink it
3 | Bad | Flawed
4 | Sub-par | Many things I'd rather have
5 | Good | Good, solid, ordinary
6 | Very Good | Better than average
7 | Great | Well above average
8 | Excellent | Exceptional
9 | Incredible | Extraordinary
10 | Insurpassable | Nothing Else Comes Close
Featured Products
Description:

The Aged & Ore Neat Traveler is a complete travel kit for spirits. We combined our widely praised Neat Glass with one of our 3oz Flight Bottles and housed them together in a custom EVA travel case. Perfect for a night away with your favorite pour. The tie
Description:

The Aged & Ore Bottle Flight is a premium set of 4 custom silicone wrapped glass bottles designed to transport and share samples of your favorite spirits. The flight bottles come in a custom EVA travel case that fits perfectly in any small bag. An Aged &
Description:

This Bundle combines two of our crowd favorite products, creating the ultimate travel bundle to bring along your favorite spirits and glassware. Bundle Includes: Neat Traveler (Gray) Bottle Flight (Gray) Note: This bundle is only available in gray and col
*Bourbon Culture is reader-supported. When you buy through links on our site, we may earn an affiliate commission.