*Bourbon Culture is reader-supported. When you buy through links on our site, we may earn an affiliate commission.
I can only imagine the crew at Barrell Craft Spirits threw a giant party to celebrate the release of Barrell Bourbon Batch 30. In 7 short years, Barrell had gone from a very limited release of Batch 1 all the way to their 30th (well, really 32nd) release. This was no small feat.
Back then, the tiny company held on for dear life as the bourbon scene exploded. Non-Distiller Producers (NDPs) such as themselves were trying to stay afloat in the sea of uncertainty as barrel broker inventories dried up almost overnight.
One of the top whiskey blending companies
Not only did Barrell survive, they quickly became one of the top whiskey blending companies in the business. Fueled by releases that are already legendary in certain circles, Barrell found unique barrels from the likes of Tennessee (Dickel), Indiana (MGP) and Kentucky (probably Barton) that they could blend together to become something different for every batch.
It was only a matter of time before a fourth state was listed on the back of a batch of their bourbon. Batch 30 now includes bourbon from Wyoming Whiskey in it.
Wyoming Whiskey
I predicted this would happen every time I reviewed the annual release of their New Year Bourbon. The New Year releases became the test bed for integrating different distillery's bourbons starting in 2018 when bourbon from New York and Texas were used.
As the years went on, other states like Illinois, Colorado and Wyoming contributed barrels from undisclosed distilleries into the New Year blend too.
That's why I was pumped when I saw the TTB label showing that Batch 30 would contain distillate from Wyoming.
There can be no doubt that Wyoming Whiskey is the source of this bourbon. They are the only distillery in Wyoming with enough capacity and aging stock to be able to supply bourbon with these specs (i.e. a wheated bourbon).
Unfortunately, my experiences with Wyoming Whiskey have been underwhelming. For all the more they pour their heart and soul into making whiskey out there, I just do not find it enjoyable.
The dry climate and maybe the grain selection may be to blame, but something about that whiskey does not set right with my profile preferences.
So maybe Barrell will find a way to work with the good parts of what WW bourbon has in it and blend away the bad.
Batch 30 also uses a wheated bourbon from Kentucky (likely Barton) as well as younger MGP bourbon and older stocks of Tennessee bourbon. So how did it turn out? Let's find out.
Tasting Notes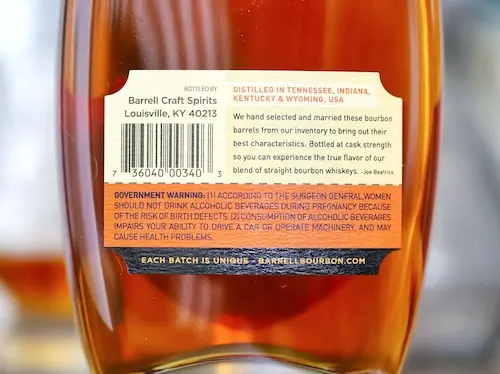 Nose: A full complement of spices hits early. Cinnamon and cardamom burst open while scents of dried rosemary and ginger add a playful compliment. It really is quite savory the more I nose the glass.
The nose gets its sweetness from caramel and vanilla while melted Tootsie Rolls can also be found. Finally, Johnny Cakes hot from the griddle show off some of those high-corn notes that probably come from the Dickel.
Palate: Dried cranberries and fruitcake stand out among a surprisingly fruit forward profile (this is a thing that Barrell always does well).
Ginger root, molasses and cloves with cinnamon Red Hots candies kind of make a quasi-gingerbread flavor but can each be found independently.
There's a delicious Oolong Tea coupled with a dry-ish note throughout. The dry note doesn't ruin it, but likely comes from the Wyoming Whiskey.
One of the notes that I think Batch 30 really does well is showcasing this wonderful citrus acidity like orange and key limes. They all lean towards the sweeter side of the spectrum but are some of the stars of the show.
Keep looking and you can also taste some of the age of these barrels like oak spice and pepper. Make no mistake though, this blend does trend a bit on the younger, brighter side.
Finish: Oak, tobacco, cloves and cardamom all come out to give the finish taste older than it is. Hints of mint and a little bit more rosemary also are found.
Spiced peaches, toasted coconut and cornbread edges round off a spectacular sip with a sendoff that is truly fitting.
Score: 8.3/10
After 32 batches (don't forget about Batches 007b and 008b!), Barrell's blending edge over other NDPs is only getting stronger. Batch 30 is an amazing example of how they continue to use each component's best traits while blending away the others.
Don't get me wrong, upon my very first sniff after I poured a glass, I could pick out a very dry aroma that instantly reminded me of Wyoming Whiskey. But after the first taste it vanished and I was left with the notes that I listed above.
This batch seemed heavy on the Dickel. And I don't mean that in a derogatory way. Although I couldn't really detect vitamin notes, the variety of fruits really stood out.
I know that in the official tasting notes from Barrell they said that they used MGP barrels that were heavy on the tropical fruits, but I find that odd because Dickel barrels typically have those traits.
Unfortunately, Barrell has never provided us with a breakdown of the ratios that they are using for each component. That is high on my Wishlist of things that I wish they'd tell us someday.
Final Thoughts
In the end, Batch 30 is an absolute banger of a whiskey. There is a uniqueness about it that is greater than the sum of all of the individual notes that I found.
And if you know my whiskey preferences, I always enjoy the ones that are different from the rest of the pack (like last year's Batch 024 being my favorite). Batch 30 truly has it all and will be one that I see myself reaching for more often than not.
Looking back at the other recent batches, Batch 27 and 29 have been great this year, but 30 is now my most memorable.
I'll wait and see what Batch 31 brings to the table at the end of the year before doing a showdown to see which batch was the best I've had.
Suffice to say, Batch 30 shows us that not only does Barrell still have a lot of magic left inside the walls their Gilmore Facility by being able to transform a questionable whiskey into the star of the show.
Ratings Breakdown
1 | Disgusting | Drain pour (Example: Jeffers Creek)
2 | Poor | Forced myself to drink it
3 | Bad | Flawed (AD Laws 4 Grain BiB, Clyde Mays anything)
4 | Sub-par | Many things I'd rather have (Tincup 10 year)
5 | Good | Good, solid, ordinary (Larceny, Sazerac Rye)
6 | Very Good | Better than average (Buffalo Trace, OGD BiB)
7 | Great | Well above average (Old Ezra Barrel Proof, Old Weller Antique)
8 | Excellent | Exceptional (Michter's Barrel Proof Rye, Four Roses Barrel Strength)
9 | Incredible | Extraordinary (GTS, 13 Year MGP or Canadian Rye)
10 | Insurpassable | Nothing Else Comes Close (William Larue Weller)
Featured Products
Description:

The Aged & Ore Neat Traveler is a complete travel kit for spirits. We combined our widely praised Neat Glass with one of our 3oz Flight Bottles and housed them together in a custom EVA travel case. Perfect for a night away with your favorite pour. The tie
Description:

The Aged & Ore Bottle Flight is a premium set of 4 custom silicone wrapped glass bottles designed to transport and share samples of your favorite spirits. The flight bottles come in a custom EVA travel case that fits perfectly in any small bag. An Aged &
Description:

This Bundle combines two of our crowd favorite products, creating the ultimate travel bundle to bring along your favorite spirits and glassware. Bundle Includes: Neat Traveler (Gray) Bottle Flight (Gray) Note: This bundle is only available in gray and col
*Bourbon Culture is reader-supported. When you buy through links on our site, we may earn an affiliate commission.