*Bourbon Culture is reader-supported. When you buy through links on our site, we may earn an affiliate commission.
Barrell Bourbon Batch #014 was their second bourbon release that showcased Barrell's new direction of blending different distilleries juice to create new and interesting flavor profiles that you may not find in any one distilleries products. They used 9 and 14 year old barrels sourced from Kentucky and Tennessee (almost surely it's Bulleit and Dickel) to create a profile that you can't often find with just one distillery's products. So what was the end result? Let's dive in and take a look. I sampled this neat and in a Glencairn.
Tasting Notes
Nose: Date cookies with a heavy sprinkling of baking spices. There's cinnamon, nutmeg and a little bit of clove. There's also an aroma like a rich, creamy homemade butterscotch pudding.
Palate: A peppery burst of spice shows that this is no slouch, but it plays nicely with your tongue by avoiding a harsh burn. The mouthfeel is thick and creamy. There's cinnamon from the nose present as well as some stone fruit flavors like apricot and dried cherry. There is also a hint of nuts in the background that is similar to peanuts or almonds.
Finish: Fresh pipe tobacco and a hint of leather give depth to a finish that is medium at length. There is sweetness that stems from the dried fruit and nuts (cashews or almonds?) found in the palate, but the baking spices really steal the show by melding into a pleasant and satisfying baked goods experience. There's Honey Buns and lots of cinnamon sprinkled on top. It's got great depth while it's around. There's just a tiny bit of Dickel vitamin minerality that also adds a unique tinge on the whole finish, letting you know its different.
Score: 8/10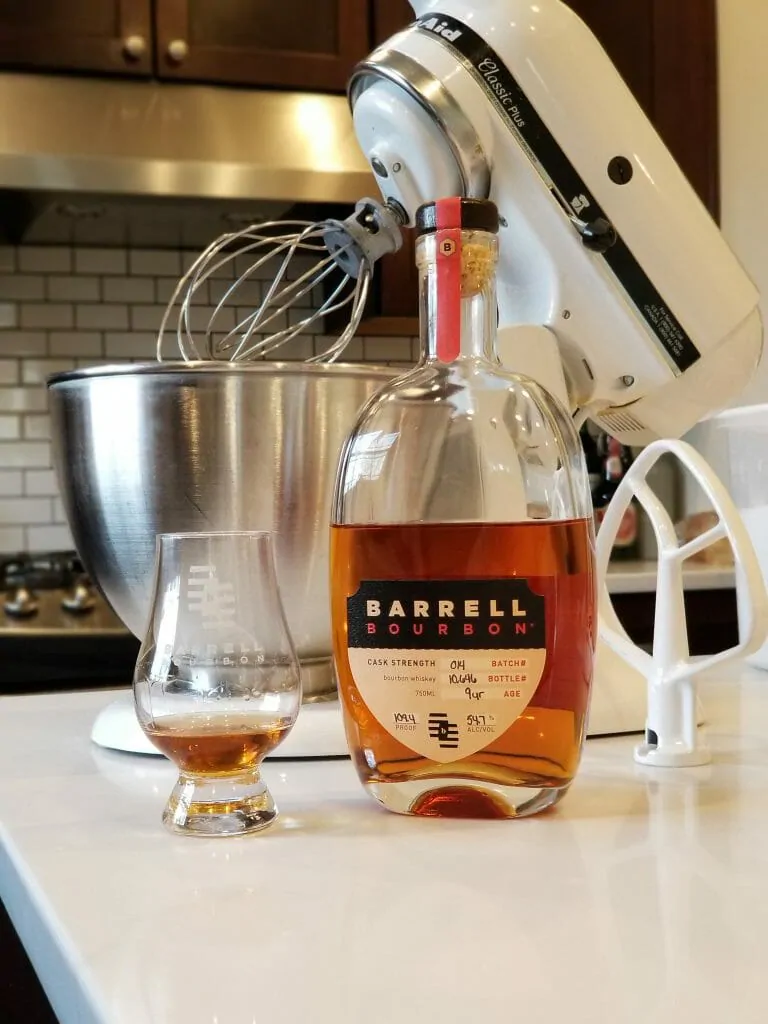 Overall, Batch #014 is a very rewarding mix of spices and sweet baked goods. The age isn't immediately noticeable because the oak and other tannins are either not present or easy to miss, a common side effect of the Lincoln County Process. However, this was such a pleasant liquid that I couldn't help but think that this would be the perfect dram to sip while doing some holiday baking, or watching somebody else do some holiday baking!
Final Thoughts
Barrell Bourbon wrapped up 2017 with a bang with this one, perfectly timed during the holiday season and it continues to be readily available if you know where to look well into 2019. This bourbon should be enjoyed on cold winter nights with some baked goods. Now the next question is, will Batch #015 continue the trend of great blending?
Rating Breakdown
1 | Disgusting | Drain pour (Example: Jeffers Creek)
2 | Poor | Forced myself to drink it
3 | Bad | Flawed (AD Laws 4 Grain BiB, Clyde Mays anything)
4 | Sub-par | Many things I'd rather have (Tincup 10 year)
5 | Good | Good, solid, ordinary (Larceny, Sazerac Rye)
6 | Very Good | Better than average (Buffalo Trace, OGD BiB)
7 | Great | Well above average (Old Ezra Barrel Proof, Old Weller Antique)
8 | Excellent | Exceptional (Michter's Barrel Proof Rye, Four Roses Barrel Strength)
9 | Incredible | Extraordinary (13 Year MGP or Canadian Rye)
10 | Insurpassable | Nothing Else Comes Close (William Larue Weller)
Featured Products
Description:

The Aged & Ore Neat Traveler is a complete travel kit for spirits. We combined our widely praised Neat Glass with one of our 3oz Flight Bottles and housed them together in a custom EVA travel case. Perfect for a night away with your favorite pour. The tie
Description:

The Aged & Ore Bottle Flight is a premium set of 4 custom silicone wrapped glass bottles designed to transport and share samples of your favorite spirits. The flight bottles come in a custom EVA travel case that fits perfectly in any small bag. An Aged &
Description:

This Bundle combines two of our crowd favorite products, creating the ultimate travel bundle to bring along your favorite spirits and glassware. Bundle Includes: Neat Traveler (Gray) Bottle Flight (Gray) Note: This bundle is only available in gray and col
*Bourbon Culture is reader-supported. When you buy through links on our site, we may earn an affiliate commission.