*Bourbon Culture is reader-supported. When you buy through links on our site, we may earn an affiliate commission.
In the world of finished bourbons, there is one cask that is rarely used: Port Wine. Port casks (called "pipes" and they're massive too) are generally used to finish rye whiskey. Port usually adds a sweetness that really helps to wrangle in rye whiskey's sometimes sharp and astringent nature.
But one of the main reasons I think producer's are hesitant to finish their bourbon with port casks is that it can sometimes lead down the road of too much sweetness.
Angel's Envy has been in the ported bourbon business for a while now, but recently, a new player has leapt onto the scene: Isaac Bowman port finished bourbon.
Both are non-age stated (although they may be around 5 to 6 years old) and both have been finished in port barrels. The Issac Bowman carries a higher proof than the Angel's Envy, roughly 92 proof versus 86, which while not a huge difference, can sometimes be enough to allow additional flavor to shine through.
So if you're a fan of finished bourbon, which of these two deserve your money? I decided to sample these semi-blind to find out for myself. These were both poured neat into a glencairn.
Glass #1
Nose: A fruity scent hits first with ripe red berries followed by raisins dipped in chocolate. There's also some light cinnamon aromas that show up too. Not much in the way of tannins on the nose, however.
Palate: The palate starts out tart with a creamy-ish mouthfeel. There is some citrus zest and tart cherry juice. There is an odd astringency that is kind of off-putting. But the palate does show a little bit of depth with tannins coming in like a slightly over-oaked dry red wine.
Finish: The finish has some notes of rye spice and a kind of bitterness that is off-putting. There is some more tannins that come out like leather and pipe tobacco. But other than some more citrus zest, the finish is pretty devoid of any sweetness.
Score: 5.2/10
Glass #2
Nose: A very heavy and sweet nose. There is some creaminess character to the nose that's hard to describe as well. I get some brown butter, brown sugar and a date/raisin mixture that also amps up the sweetness. There's a nice whiff of vanilla and a small amount of floral notes like blooming flowers. It's got a nice amount of complexity to it.
Palate: There is a little bit more heat than I expected on the tongue. Light brown sugar gives sweetness along with a velvety blanket of stewed, slightly sweetened stone fruits. There is also some spice in the form of cinnamon, black pepper flakes and oak spice.
Finish: There is a little bit of mint and menthol cooling effect on the finish after I open my mouth, but the more interesting notes are a moderately sweet, yet dry red wine like pinot noir and port wine were mixed together. I detect some black pepper flakes that still keep it a little bit spicy too. Finally, there is some acidic citrus zest that add a nice layer to the finish.
Score: 5.9/10
Blind Reveal:
Glass 1: Angel's Envy
Glass 2: Isaac Bowman Port Finish
Winner: Isaac Bowman Port Finish!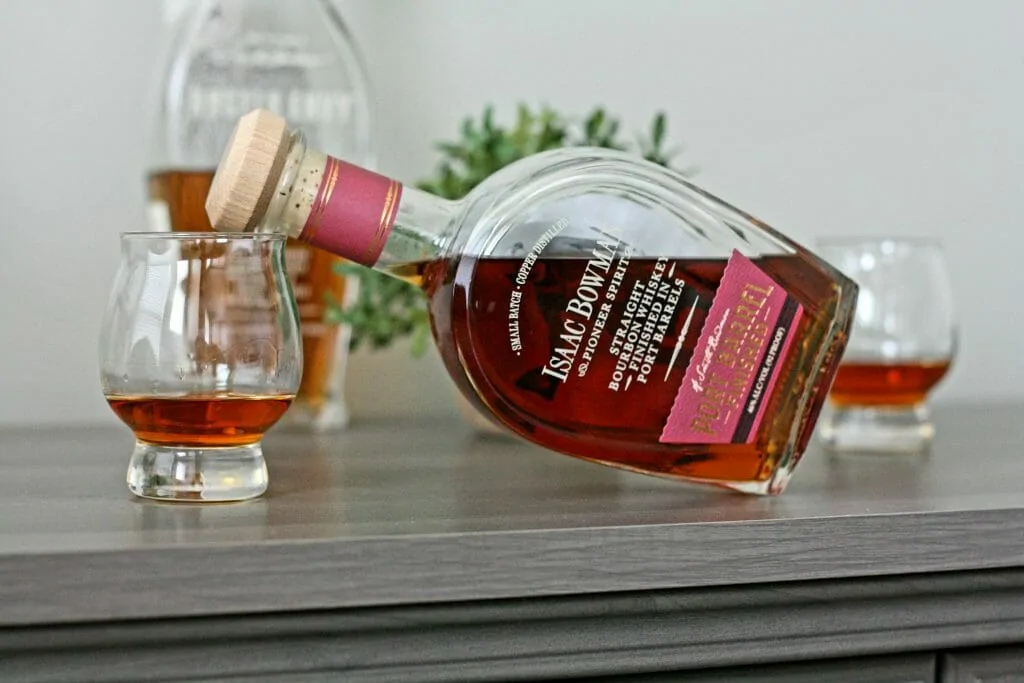 The Isaac Bowman bourbon wins today's round by a decent amount. I found more depth and complexity and a lot of what I was really hoping to find in the first place: wine notes and sweet fruits. The Angel's Envy seemed astringent by comparison and was not as robust.
This could be because of the lower proof, but it could also be an issue with this particular batch. There have been multiple pictures online of people holding up two different batches of Angel's Envy bottles side by side with a wide variance in color of the finished bourbon.
This has to do with batch differences of how long the distillate sat in the finishing barrel before it was declared "done."
Final Thoughts
Maybe my batch of Angel's Envy didn't have enough time in a barrel or maybe it had too much, I'll never know. In the end, finished bourbons can be a tricky bunch to get right consistently, so it's always advisable to taste before you buy. You never know what you will like.
Ratings Breakdown
1 | Disgusting | Drain pour (Example: Jeffers Creek)
2 | Poor | Forced myself to drink it
3 | Bad | Flawed (AD Laws 4 Grain BiB, Clyde Mays anything)
4 | Sub-par | Many things I'd rather have (Tincup 10 year)
5 | Good | Good, solid, ordinary (Larceny, Sazerac Rye)
6 | Very Good | Better than average (Buffalo Trace, OGD BiB)
7 | Great | Well above average (Old Ezra Barrel Proof, Old Weller Antique)
8 | Excellent | Exceptional (Michter's Barrel Proof Rye, Four Roses Barrel Strength)
9 | Incredible | Extraordinary (GTS, 13 Year MGP or Canadian Rye)
10 | Insurpassable | Nothing Else Comes Close (William Larue Weller)
Featured Products
Description:

The Aged & Ore Neat Traveler is a complete travel kit for spirits. We combined our widely praised Neat Glass with one of our 3oz Flight Bottles and housed them together in a custom EVA travel case. Perfect for a night away with your favorite pour. The tie
Description:

The Aged & Ore Bottle Flight is a premium set of 4 custom silicone wrapped glass bottles designed to transport and share samples of your favorite spirits. The flight bottles come in a custom EVA travel case that fits perfectly in any small bag. An Aged &
Description:

This Bundle combines two of our crowd favorite products, creating the ultimate travel bundle to bring along your favorite spirits and glassware. Bundle Includes: Neat Traveler (Gray) Bottle Flight (Gray) Note: This bundle is only available in gray and col
*Bourbon Culture is reader-supported. When you buy through links on our site, we may earn an affiliate commission.