*Bourbon Culture is reader-supported. When you buy through links on our site, we may earn an affiliate commission.
The newest Jefferson's label was filed to the TTB a few days ago: Jefferson's Tropics – Finished in Singapore, Aged in Humidity. That's a mouthful and I assume that enthusiasts will just refer to it as "Jefferson's Tropics."
It should be considered an extension of the popular Jefferson's Ocean line which was widely considered to be a gimmick when it first came out but has a wild following. If you don't know much about Jefferson's Ocean, read more about it here.
What Makes Jefferson's Tropics Different
Jefferson's Tropics one-ups its "Ocean" brother with another trick up its sleeve; not only were the barrels transported on a ship for a long period of time, it looks like they were dropped off at a port in Singapore to age for a while before being loaded up and shipped back to the United States.
My personal opinion on the Jefferson's Ocean line is that they are generally pretty good. The base bourbon tastes like it's sourced from Barton, but that's fine with me. Fans of Calumet Farm, 1792, Lucky Seven or Blue Run (the 13/14yr Single Barrels) will feel right at home.
My only gripe with Jefferson's Ocean is that I wish they'd give us a little more info about the ages of the barrels and maybe bottle it at a higher strength in its base form (90 proof). Jefferson's must have heard about that last gripe because the proof shown on this label is higher than normal – coming in at 102 proof.
Jefferson's Ocean Prices Depend on Strength
Jefferson's Ocean upcharges depending on if the batch is cask strength or not (usually $20 more per bottle) and I'm assuming that Tropics will fall somewhere in the middle. Maybe around $85-90.
A couple things to highlight about Jefferson's Ocean that apply to this new Tropics label: there are actually two different container types that Jefferson's uses to age the barrels in.
One looks like a standard shipping container and the other looks like a convertible version of that concept (see picture below). I'm not sure which one was used for Jefferson's Tropics, but my guess is a regular shipping container to prevent theft of the barrels while it "matures" at the port.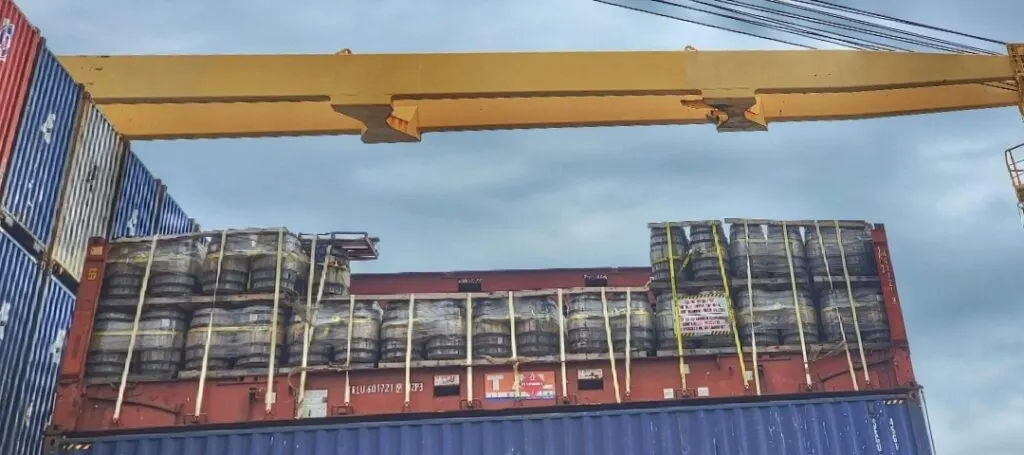 If you've ever worked in or around shipping containers, you know just how hot they get in direct sunlight. During my time in the Army, we recorded 130 degree temperatures inside of them on an 85 degree day in Iraq. It was probably more too, but our digital thermometer turned off after it hit that number.
Allowing barrels of whiskey to be put inside of these metal boxes should mature them much faster in theory. For the record, I do believe this concept has merit.
The open-topped shipping container probably doesn't see as much influence, but the harsh summer rays directly hitting the oak barrels followed by rapidly cooling nighttime temperature probably do something totally different to the liquid inside. This also leaves the barrels more exposed to the salty sea air.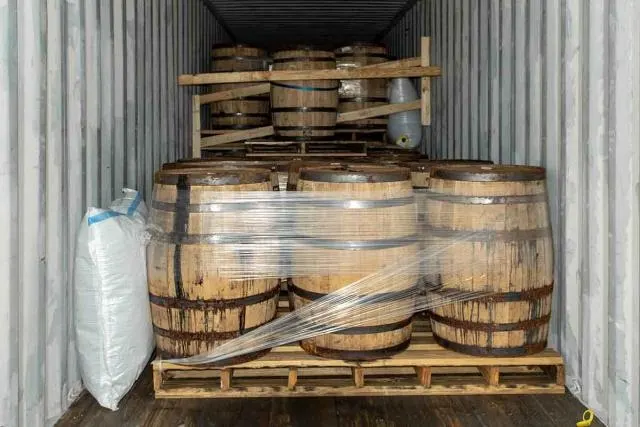 What makes Tropics different from standard Ocean? I don't actually know yet because no literature exists. Typically, the neck tag supplies a majority of that information, so I will have to wait for it to come out first.
But what I can assume is that Jefferson's wants us to believe that the humidity (and hot temperatures?) of Singapore add a different dimension to the liquid. I must admit, I'm not completely sold that aging the liquid in the hot and humid climate of Singapore is any different than if the container remained on a boat that spent a majority of its time in a the South Pacific, but that's just my opinion.
I would guess that Jefferson's did keep the barrels in port for at least few months or possibly for the duration of the Southern Hemisphere's summer (our winter). But I don't have any information that substantiates that.
What does humidity do to whiskey barrels?
What does humidity do to the barrels? Well according to some of the people I know in the industry, extra humidity results in a barrel losing more alcohol than water through evaporation.
I don't fully understand the science and I'm not saying that this is a hard and fast rule, but it is something that typically happens. Usually a lack of humidity creates the opposite to occur, which is why distilleries/producers out west (High West, Wyoming Whiskey, Smoke Wagon, etc.) see their products gain proof over time.
What am I getting at here? If these barrels started their life being filled with 125 proof bourbon and the high humidity lowered the bourbon's proof inside, then bottling the bourbon at 102 proof might be pretty close to barrel proof when all was said and done.
Expect Much More Flavor Here
This means much more flavor because less water was added. If Jefferson's is listening, please consider giving enthusiasts more details about your products, especially the proof the barrels started at before and after the voyage is complete.
There's one final aspect I want to bring to light before online reviewers get their hands on this bottle. I believe that a common theme we'll hear when the reviews eventually come out is how much better or richer or more flavorful Jefferson's Tropics is compared to Ocean.
But the context they might skip over is the proof difference between the two. So I'm going to preempt those reviews by saying that it shouldn't surprise anyone when reviewers begin to tell us that Tropics tastes better than any Jefferson's Ocean 90 proof batches.
That's going to happen, but the reason is because the bourbon isn't as diluted, not because it was aged in Singapore.
Final Thoughts
To wrap this all up, I will give one final prediction: This isn't the last time we see Jefferson's do something like this. I predict we'll see many more experiments where barrels are aged in exotic climates.
Perhaps we'll see Jefferson's "The Caribbean," "Cyprus," "India" and maybe even "Antarctica/The Arctic Circle" (that wouldn't make much sense to me, but marketing teams are crazy sometimes). It's all about doing something different and when it comes to Jefferson's, we've seen no shortage of ideas so far.
Featured Products
Description:

The Aged & Ore Neat Traveler is a complete travel kit for spirits. We combined our widely praised Neat Glass with one of our 3oz Flight Bottles and housed them together in a custom EVA travel case. Perfect for a night away with your favorite pour. The tie
Description:

The Aged & Ore Bottle Flight is a premium set of 4 custom silicone wrapped glass bottles designed to transport and share samples of your favorite spirits. The flight bottles come in a custom EVA travel case that fits perfectly in any small bag. An Aged &
Description:

This Bundle combines two of our crowd favorite products, creating the ultimate travel bundle to bring along your favorite spirits and glassware. Bundle Includes: Neat Traveler (Gray) Bottle Flight (Gray) Note: This bundle is only available in gray and col
*Bourbon Culture is reader-supported. When you buy through links on our site, we may earn an affiliate commission.