A quick word about a different kind of expanded content that we've been talking about here at The Bourbon Culture: We are a website dedicated not only to great reviews and articles, but also photography. You could say that our pictures set us apart from a majority of other whiskey review websites in this regard.
Our goal is to never use stock photographs if we don't have to and to always find new and exciting locations that perfectly capture a place where a viewer can imagine themselves enjoying a dram of their favorite whiskey. Some of the places we have received permission to shoot at deserve to be recognized for the unique space they are. This is why we've decided to showcase them in their very own subsection and give them the credit they deserve.
Nestled in the southern suburbs of Indianapolis, the city of Greenwood seems like your typical Midwestern town. If you're ever driving through, you can find a mix of home styles including Craftsman, Ranch, Farmhouse and assorted McMansions. But there is one home that stands out from the rest because it's completely different from the rest. But before we get into its appearance, let's talk about how it came to be in the first place.
In 1954, the Mills family commissioned a local architect named Harry Cooler to design and build a house for them that would showcase their local cabinetry and countertop business as well as being a place that they would live and entertain guests. Harry Cooler was not your run-of-the-mill architect though, he had studied under Frank Lloyd Wright while he attended the University of Illinois.
Frank Lloyd Wright needs little introduction. He is the most famous architect in the history of United States for good reason. His designs were so groundbreaking and original that they are still being utilized by architects today. The various styles spawned hundreds of copycats who were eager to create homes that looked and functioned in ways that had never been thought about before Wright came along. These unique traits will be covered below, but for many decades, the Mills house was one of the most talked about homes in the city.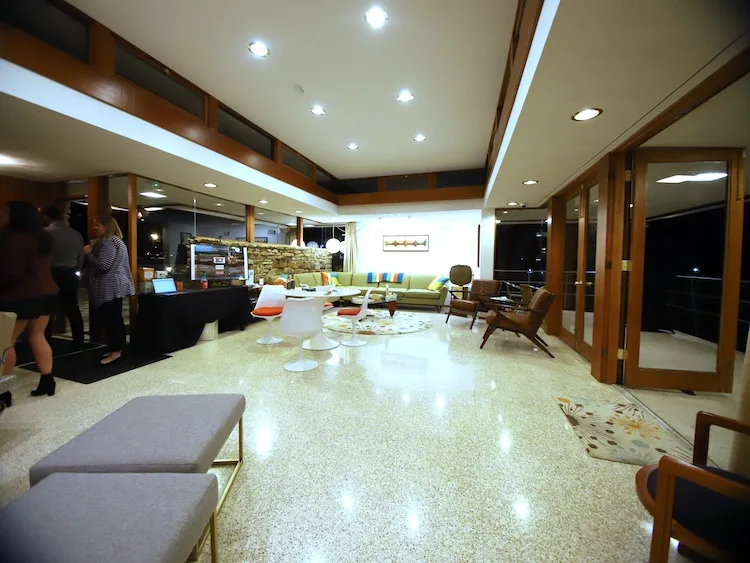 It becomes immediately apparent that this is no ordinary home when you walk into it. The entire place feels so large, almost like it's half home/half commercial business. You can almost see half of the interior no matter where you're standing. Little did I realize that this is kind of the point of the design.
Since I don't know much about architecture, I started to do some light reading on Frank Lloyd Wright and concluded that the home seems to be designed with a combination of his "Prairie" and "Usonian" styles. Wright's Prairie Style homes were generally one or two stories with open floor plans and strong horizontal lines. Usonian style builds off of that concept with large, centralized fireplaces (on every level), built-in furnishings and small bedrooms that forced family to gather in the living spaces.
In Usonian Houses, there are no basements or attics and the roofs are entirely flat with broad, overhanging eaves. This was designed purposefully to simplify construction and its costs. Even rain gutter downspouts were deemed unnecessary because they would obstruct the view out of the vast expanses of glass.
Stubby drain pipes drop from the underside of the roof and are angled to jettison the water away from the house and fall into preplanned stone areas. Traditional, large bedrooms are nonexistent as they were seen as a threat to keeping the whole space feeling as open as it was intended.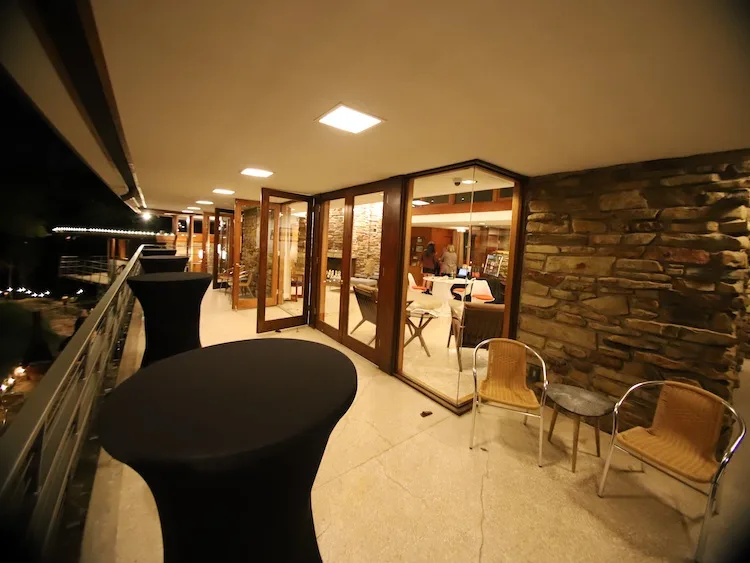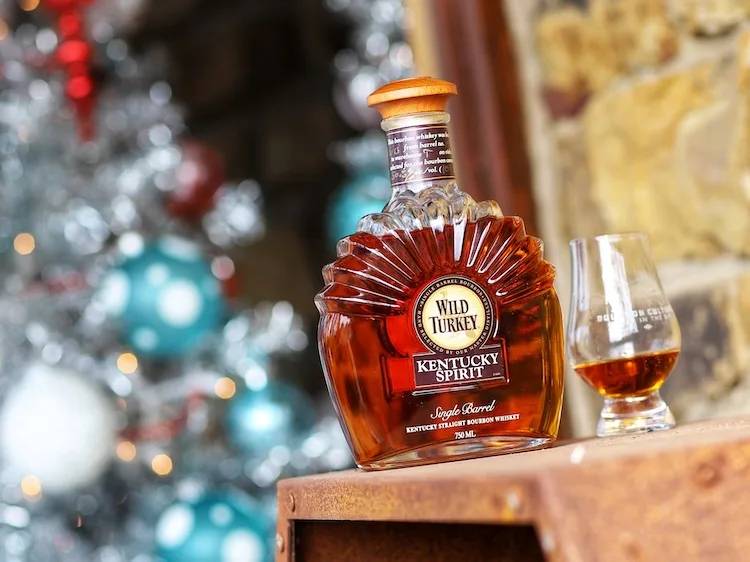 Speaking of the glass, there's a ton of it. Anywhere that can be glass, there is glass. It was also important to Wright that corners not make a room feel like it was ending. This is why a majority of the corners in the Cooler Center end with two pieces of glass coming together rather than masonry, concrete or wood. Even in the "Master Bedroom," a corner that looks like it is a wooden support beam is actually two doors that come together at a 90 degree angle that open outwards onto the suspended concrete balcony.
As I toured the house, another thing I noticed is how integrated all of the closets and cabinetry is. This is a design that is making a comeback in modern day architecture as well. I'm not talking about just kitchen cabinets either, but rather bookshelves that are built into the walls, hidden closets and even "bedroom closets" that are literally cabinets and sliding doors built into the sides of the hallway leading into the sleeping area.
The concept of everything flowing into each other is even noticeable in master bathroom. The "princess tub" that you can see in the picture is much lower to the ground and is offset 45 degrees so that there are large open corners on each side. No surprise here, but it did make the bathroom feel much larger than one with a standard tub!
All of these elements are joined together with Wright's philosophy of "Organic Architecture" which is best explained by wanting inhabitants to live in near-total interaction with the outdoors while also keeping them protected from the elements. You get to see nature as it evolves day by day while nature looks right back at you and shakes its head at how many hours each day you spend cleaning all of that glass.
Speaking of the outdoors, the materials these kinds of houses are made from often use wood and stone to create a more natural feeling. In fact, the stone that you see here is a certain type of fieldstone that is abundant in southern Indiana. If there are man-made materials that were used (like steel), it is masked as much as possible throughout the architecture rather than left exposed like modern Industrial designs do.
Outside, the large suspended balcony that circles around the home needed to be updated to prevent guests from falling off (especially if this was going to host large events).
The owner decided to have a custom metal railing built to match the aesthetics of the house and to keep the original style cues of "strong horizontal lines." I'd say that this is about as close to a compromise as you can get as it ties it all in pretty well without coming off as tacky.
The surrounding grounds included a man-made pond, a pickle ball court, a bocce ball court and several sitting areas complete with chairs, tables and chimeneas.
Work will soon begin on an amphitheater as well as some additional parking, opening it up to an even larger event space with more capacity. All of this was done to expand the function of the center from conferences and weddings to now have the ability to host festivals and musical events.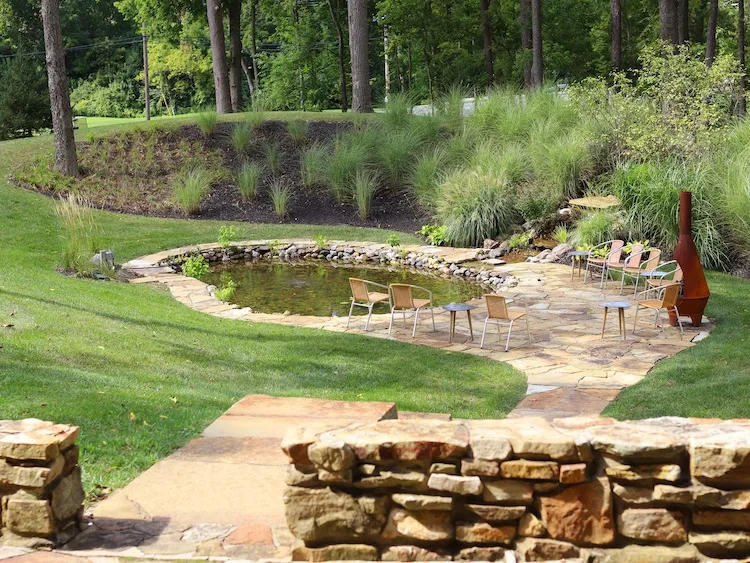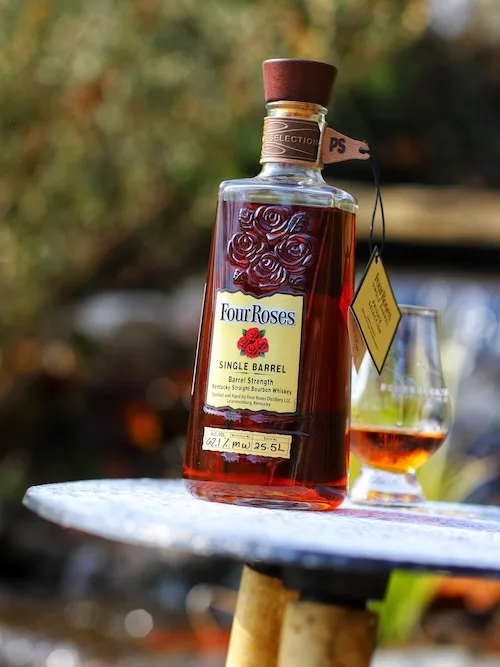 I have been to the Cooler Conference Center a few times now as both a guest and to take some awesome pictures of the whiskey bottles used in my reviews. There's not a bad place to shoot inside or out. The space feels like it was custom made to host weddings and receptions rather than raise a family in. The open areas allow everyone present to socialize and mingle in a way that feels natural and uncrowded. People that generally don't enjoy tight, stuffy spaces will feel at ease in the large glass rooms because you feel like you're practically sitting outside. The well manicured landscape is the perfect place to wander away and enjoy the events from afar. You can be sure that the beautiful and unique setting will be something that guests talk about for years to come, unlike that windowless conference room at the Marriott that your boss keeps trying to book.
So if you're looking for a place to have your next event or even if you just want to go walk around one of the coolest buildings in southern Indianapolis, then why not check out the Harry Cooler Conference Center? You may end up being just as surprised as I was to find a gem like this right in your own backyard.
Harry Cooler Conference Center
944 Fry Rd
Greenwood, Indiana 46142
http://www.coolercenter.org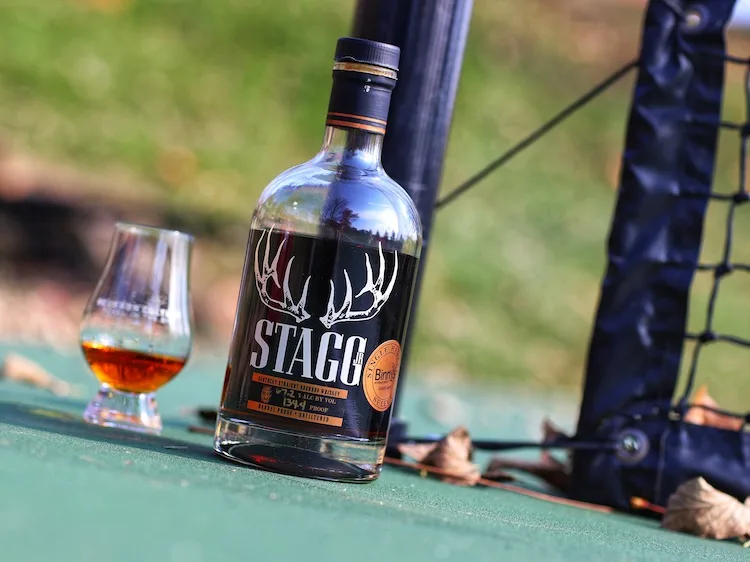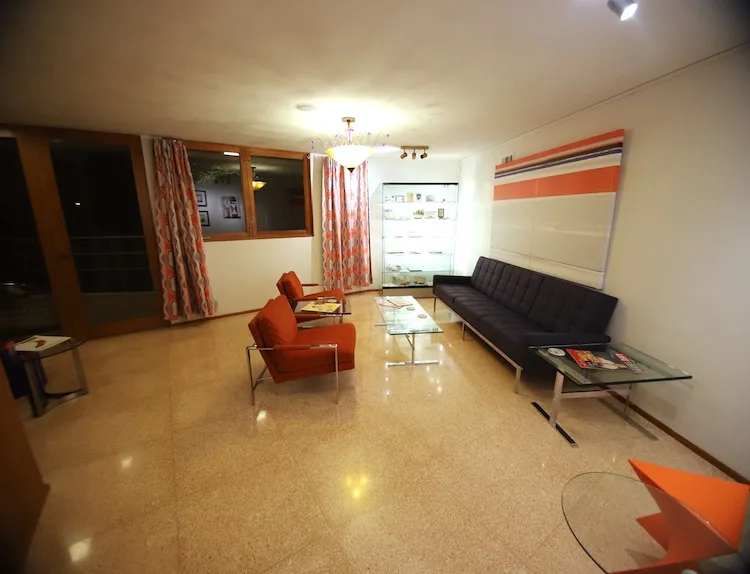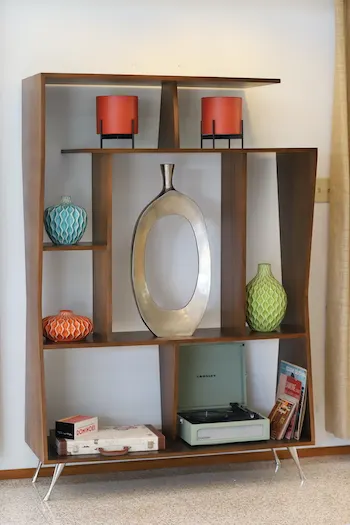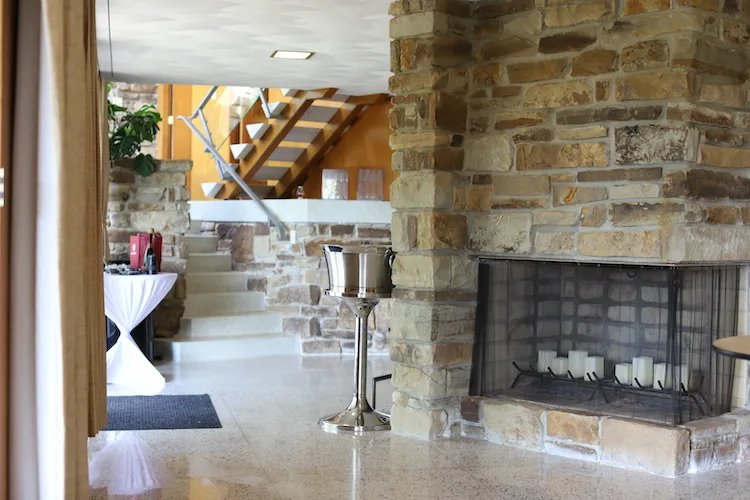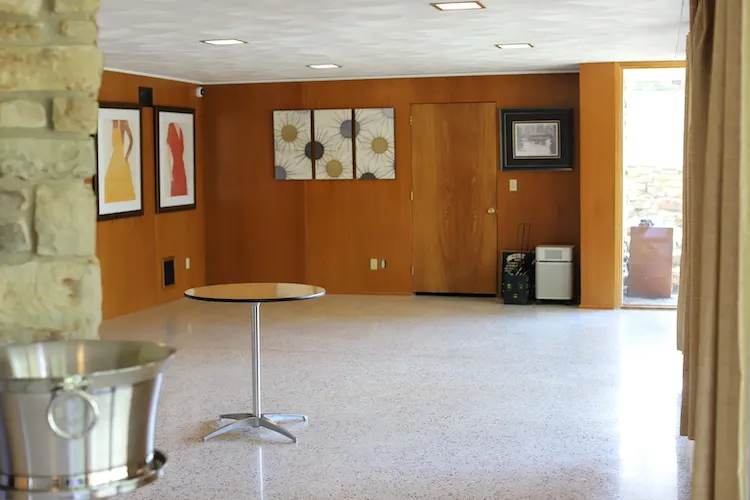 Featured Products
Description:

The Aged & Ore Neat Traveler is a complete travel kit for spirits. We combined our widely praised Neat Glass with one of our 3oz Flight Bottles and housed them together in a custom EVA travel case. Perfect for a night away with your favorite pour. The tie
Description:

The Aged & Ore Bottle Flight is a premium set of 4 custom silicone wrapped glass bottles designed to transport and share samples of your favorite spirits. The flight bottles come in a custom EVA travel case that fits perfectly in any small bag. An Aged &
Description:

This Bundle combines two of our crowd favorite products, creating the ultimate travel bundle to bring along your favorite spirits and glassware. Bundle Includes: Neat Traveler (Gray) Bottle Flight (Gray) Note: This bundle is only available in gray and col
*Bourbon Culture is reader-supported. When you buy through links on our site, we may earn an affiliate commission.